News & Views
---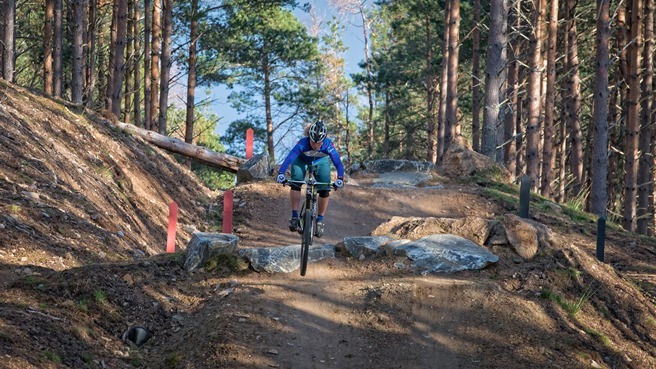 Champion cyclist Lee Craigie tackles the trails at Glenlivet
Pump It Up!
Located in the Carn Daimh forest near Tomintoul, the BikeGlenlivet centre and its trails have already proved a great attraction for families as well as experienced riders, with more than 10,000 visitors using the trails since they opened last year. And, following planning permission from the Cairngorms National Park Authority, a new 'pump track' is to be added to the bike trails at Glenlivet and is scheduled to open in early October.
The new 75-metre pump track will include numerous jumps, bumps and banked corners, providing another thrill-filled option for younger riders and for those who like to hone their riding skills or warm-up before tackling the trails.
"Our trails have attracted a fantastic amount of interest since they opened last year," said Glenlivet Estate Countryside Manager, Vicky Hilton. "We want to keep the momentum going and add to the existing facilities so that the trail centre continues to deliver a great experience for all visitors." 
Military Create New Female Polar Bear Enclosure
After ten days, 60 military personnel, 2,240 hours of labour and 615 tonnes of timber and stone, a new enclosure is ready and waiting for the female polar bear who will be arriving at the Highland Wildlife Park next spring. The 250-kilo female polar bear will join Walker and Arktos, Scotland's only resident male polar bears, with the hope of the pitter-patter of polar bear cub paws being heard in the not-too-distant future!
Engineers from 71 Engineer Regiment and a contingent from the South Dakota National Guard built the new one-hectare polar bear enclosure, which features a pond for the female to splash about in and plenty of natural ground to run and roll around on.
A raised walkway with a viewing platform was also built, providing disabled access and a panoramic view of the girls-only polar bear enclosure. The walkway received funding from the Heritage Lottery Fund, who donated £51,700 towards the enhancement of the Park's infrastructure, interpretation and education, while the total amount of military manpower provided for the walkway and the enclosure was estimated at £45,000.
"This project, involving Reservists from 71 Engineer Regiment, Regular Sappers from our partnered Regular unit in Kinloss and military engineers from the South Dakota National Guard, provided an excellent opportunity to showcase the depth and diversity of skills required to plan, resource and deliver an ambitious project," said Lieutenant Colonel Nicholas Mifsud RE, Commanding Officer of 71 Engineer Regiment.
A 'handing over' ceremony between the Park and military personnel took place on Wednesday 17 September, when military representatives from both sides of the Atlantic were presented with specially-commissioned commemorative polar bear prints.
"We're delighted to be welcoming a female polar bear to the Park," said Douglas Richardson, Animals Collection Manager for the Highland Wildlife Park. "The female will remain separate from the males, as she would in the wild, and during the breeding season we will introduce her to one of our males. The two will spend some time together and we hope nature will take its course.
"The last time polar bear cubs were born and reared in the UK was in 1992. Creating an environment that will allow such an event to happen again will be incredibly positive for the Highland Wildlife Park."
Artists and Architects Contribute to Unique Fundraiser
In October, a unique event will take place in Glasgow to raise funds for ENABLE Scotland and Glasgow School of Art. Architecture meets Art – or #AMeetsA – brings together some of the biggest names in the art and architecture world, whose original artworks will be exhibited at the Italian Centre in the heart of Glasgow's Merchant City from October 16 – 29 and then auctioned to raise funds for the two worthy causes.
A variety of artists, architects and designers practising across a broad mix of mediums have donated original pieces encompassing the brief of 'celebrating the cultural importance of Glasgow's art and architecture'. Their artworks will be auctioned at #AMeetsA's Gala Dinner at the end of October, with funds raised going to ENABLE Scotland and The Glasgow School of Arts Mackintosh Building Fire Fund.
Turner Prize-nominated Scottish sculptor David Mach is currently working on a bespoke commission for #AMeetsA. "I'm honoured to be part of this project, supporting one of Glasgow's finest architectural triumphs, the Mackintosh Building, and helping to raise funds for ENABLE Scotland's vital work," said David.
Glasgow-based design studio Timorous Beasties have donated a framed piece of their critically-acclaimed 'Glasgow Toile' and there are also contributions from Graven Images, Mackintosh School of Architecture, Page/Park, Contagious Design, Nicholas Szczepaniak Architects and artists David Simpson and Marion Gardyne. Others involved include Christine Thomson (aka the Papercut Artist), who enjoyed commercial success with her designs for the Commonwealth Games merchandise; ex-architect turned photographer Tom Manley; and Alan Dunlop, a prolific figure in UK architecture who has donated two drawings of Glasgow's South Rotunda.
"Glasgow is a city with stunning architecture and outstanding artists," said Hazel McIIwraith from ENABLE. "I cannot thank the artists and architects enough for raising funds for ENABLE Scotland and Glasgow School of Art, which was so cruelly damaged by fire this summer."
A preview of the exhibition with a selection of the donated artwork will also be on display at #DesignPopUp from September 24 – October 9 at the Dovecot Studios in Edinburgh.