Idlewild and Fatherson win at Nordoff Robbins Scottish Music Awards
---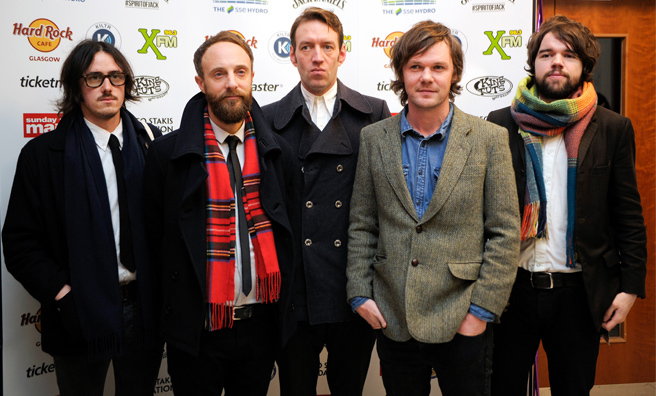 Idlewild 2014 lineup
Scotland's most celebrated acts and artists turned out for an evening of high-glamour in aid of Nordoff Robbins Music Therapy, a charity that helps enrich the lives of children in Scotland suffering from trauma, illness or disability.
Winners of the 16th Annual Scottish Music Awards were honoured with the aptly named Tartan Clefs prize over ten categories.
The night saw performances from electropop group Neon Jungle and Jimmy Sommerville, the voice featured on Bronski Beat's hit 'Smalltown Boy', who was awarded the 'Special Recognition Award' for a career spanning 30 years.
It was the return of cult indie band, Idlewild, however that marked a special moment for Scottish music fans. Fresh from the announcement of a new album last month, the band showcased a new line-up and treated the audience to an exclusive performance. They were honoured with The King Tut's Songwriting Award, while Glasgow-based Fatherson took the Hard Rock Cafe & XFM Rising Star Award, presented by Jim Gellatly.
The four piece band, hailing from Kilmarnock, have been making waves with album I Am an Island.
The musicians… make us so proud of our unique and thriving music scene. Donald MacLeod, Co-Chair of Nordoff Robbins Scotland

Co- Chair of Nordoff Robbins Scotland, Donald MacLeod, praised Scottish musicians and said of the event: "We continue to be both amazed and overwhelmed by the generosity of the Scottish Music scene and public, tonight has been no exception.
The Scottish Music Awards are the main source of funding for the charity, and it is hugely important to us that we continue to be able to support those that need us across the country."
See right for a full list of winners and to see our gallery of stars including Lorraine Kelly, Still Game's Ford Kiernan and Greg Hemphill and Julie Fowlis, as featured in our December issue.
---
The Winners
Creative Scotland Best Traditional Scottish Music Award  Julie Fowlis

Hard Rock Cafe & XFM Rising Star Award Fatherson

King Tuts Songwriting Award Idlewild

Nordoff Robbins Scotland & Creative Scotland Big Apple Award The La Fontaines

PEOPLE MAKE GLASGOW Jimmy Sommerville

Sir Reo Stakis Dr Steve Forman

SSE Hydro Best Act of the Year Prince

Sunday Mail Music Business Award Mark Mackie

Ticketmaster Hottest Ticket Award Still Game