News & Views November 13
---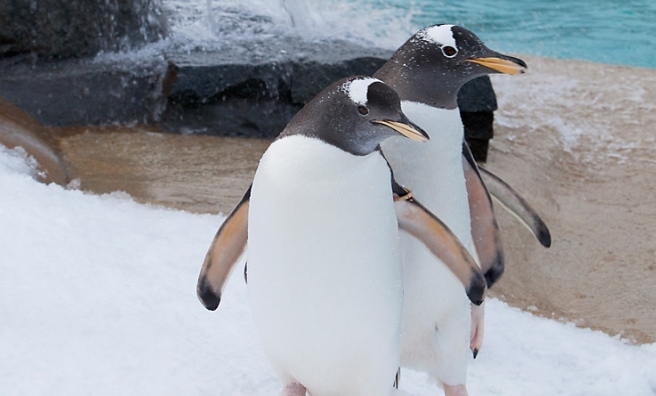 Remind you of anyone? Monty and Mabel's antics were inspired by the penguins at Edinburgh Zoo. Credit: Ivon Bartholomew
P-P-P-Pick Up A Penguin
If, like us, you're in tears every time the John Lewis Christmas ad comes on, perhaps you should plan a visit to Edinburgh Zoo?
Earlier this year, the advertising agency behind this Christmas' must-see ad spent a day at Edinburgh Zoo observing the penguins at their state-of-the-art enclosure, Penguins Rock. During their visit, they discussed the behaviour and movements of penguins with the keepers and also made short recordings which were used when creating the ad's incredibly realistic onscreen penguins, Monty and Mabel.
"Although Monty and Mabel are Adélie penguins, they have the same behaviours and mannerisms as the Gentoo penguins we have at the Zoo," said Dawn Nicoll, Senior Keeper of Penguins at Edinburgh Zoo.
"We have a large colony here with a few big personalities and some of Monty's behaviours mirror behaviours which can be seen in at Penguins Rock. For example, the movements as penguins jump out of water, waddle, make a trumpeting call, sleep on their belly, flap their wings and eat fish from our hands.
"Nesting season was in full swing and it is possible that the affectionate behaviours displayed by our penguins inspired some of the more emotive interactions in the advert, such as the loving behaviour displayed at the end of the advert when Monty and Mable meet."
Watch Edinburgh Zoo's penguin colony live by clicking here.
Bannockburn 'Battlepedia' launches
Get ready for mental combat… The National Trust for Scotland's Battle of Bannockburn Experience has launched an exclusive website http://learning.battleofbannockburn.com/ where people of all ages can learn more than ever before about the iconic battle.
The new website includes the innovative 'Battlepedia' and allows visitors to explore characters, weapons, armour and locations from the battle like never before.
"It has always been our intention that the Battle of Bannockburn experience should begin well before you arrive at the Bannockburn centre and continue on after your visit," said Tom Ingrey-Counter, Interpretation Project Manager at the National Trust for Scotland. "This award-winning new website plays an important part in delivering that vision."
The Voice Behind The Gruffalo's Child
School children in Glasgow experienced their own cinematic close up when they had the chance to quiz leading Scottish actress Shirley Henderson during the Into Film Festival, which runs across Scotland until 21 November.
As part of the festival's commitment to putting film at the heart of children and young people's learning and cultural experience, 81 Glasgow primary school pupils aged 5–7 attended a special double screening of The Gruffalo and The Gruffalo's Child.
To enable the youngsters to gain an understanding of how the films were made, the screening was followed by a demonstration by animators Magic Light Films, who showed the children some behind-the-scenes processes of animation.
The school pupils also had a chance to put their questions to actress Shirley Henderson, who provided the voice for the Gruffalo's Child. "Their questions were intelligent but fun," said Shirley, who first came to fame with Trainspotting and is also known for her roles as Moaning Murtle in the Harry Potter series and Jude in Bridget Jones's Diary. "They seemed to enjoy The Gruffalo's Child very much – they were just wee kids having a day out."