News & Views November 20
---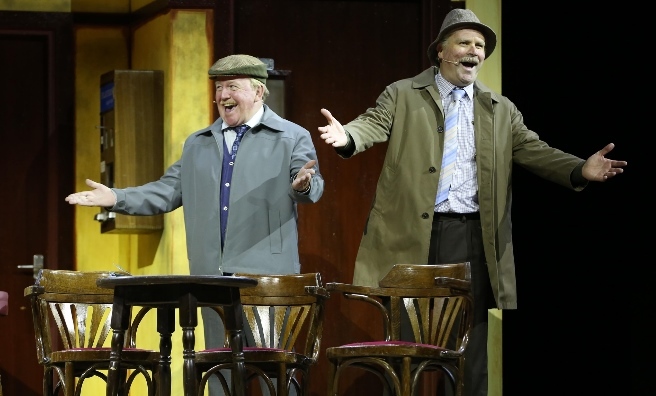 Still Game Live at the SSE Hydro in Glasgow. Photo by Marc Turner
 Game On!
Earlier this year, Still Game, our favourite sitcom of all time, returned after a seven-year hiatus when it was revived live on stage at the SSE Hydro in Glasgow.
Read our fabulous interview with the Still Game Boys here – or relive the hilarious live show on DVD, where much-loved comics Ford Kiernan and Greg Hemphill return as old friends Jack Jarvis and Victor McDade.
The live show reunited Jack and Victor with the other members of the Still Game gang -Winston, Isa, Tam, Navid, and Boabby – and had its audience in stitches from beginning to end, reminding us all just why the show was such a hit.
The BBC One Scotland special Still Game Live in Glasgow will be released on DVD on November 24, 2014 and is available to pre-order here.
 Landscape Photographer of the Year 2014
Landscape Photographer of the Year: Collection 8 is a stunning coffee table book containing beautiful, full-colour prints of the winning and commended entries in the 2014 Take a View Landscape Photographer of the Year competition.
Both book and awards celebrate the UK's beautiful and dramatic scenery through the work of the nation's best amateur and professional photographers. From Cornish fishing villages to craggy Scottish peaks, and from ancient stone formations to gritty tenements, this book showcases the work of landscape photographers at their most inspired and original.
This year's overall winner was Mark Littlejohn from Cumbria, whose photograph captured Glencoe on a very stormy day.
"I got up at 1.30am to drive to Glencoe, meeting a couple of pals en route," said Mark. "Unfortunately, the rain was torrential at dawn and the water levels were the highest I'd ever seen them. As we wandered about waiting for gaps in the weather, I saw this wee stream form high up on Gearr Aonach. It tumbled steeply down the slopes before vanishing again near the base of the mountain.
"With more squalls coming through, I decided to take this image as the light became slightly more diffuse. It had to be a quick handheld shot due to the sideways rain and I therefore raised the ISO and used a larger aperture to keep the speed up slightly."
Published by AA Publishing, £25
Academic Win For 2014 Saltire Literary Awards
An exhaustive piece of academic research co-authored by history Professors Bob Harris of Oxford University and the late Charles McKean of Dundee University has beaten off stiff competition from an array of new and established names in contemporary Scottish literature to claim the 2014 Saltire Book of the Year Award, sponsored by Creative Scotland.
'The Scottish Town in the Age of Enlightenment 1740-1820' explores how Scotland's 18th century burghs improved themselves and the significance of this for modern understanding of a society in a state of transition.
Described by the judging panel as 'magisterial', the book was the product of an extensive three-year research project funded by the Arts and Humanities Research Council. It also won the 2014 Saltire Society Scottish Research Book of the Year award, supported by the National Library of Scotland.
Professor Bob Harris collected both awards and an accompanying cash prize of £10,000 at a special ceremony at Our Dynamic Earth in Edinburgh on November 11, 2014.