News & Views October 13, 2014
---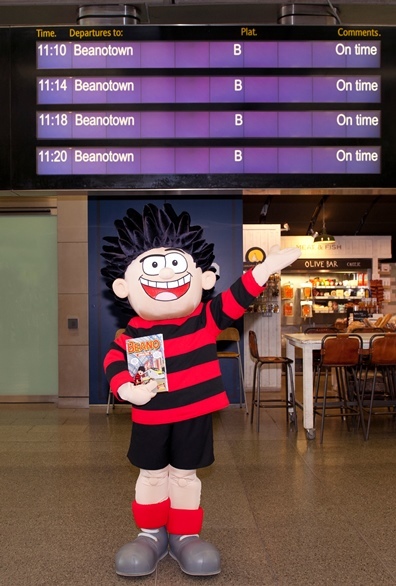 All trains to Beanotown!
Dennis The Menace Takes Over St Pancras Station
Not many people know this but we share an office with none other than Dennis the Menace, which means we can all get a shot of his cartie when he takes it to work and if we're bored we can join him in a spot of menacing! However, we're about to be a Dennis-free zone as the world's ultimate Menace is heading off to London with his Beano pals, where they're going to take over St Pancras Station!
From now until Christmas, Dennis and co will be bringing pranks and fun to millions of travellers and visitors, helping to propel The Beano 2015 annual to the highly coveted No. 1 spot yet again and making travelling that little bit more fun!
Rally Special!
To mark the 20th anniversary of the late Colin McRae winning the World Rally Championship in 1995, Knockhill, Scotland's National Motor Sport Centre, is holding a special event on May 16/17, 2015.
Knockhill has long been the venue for rally action and this new event will be a multi-discipline, multi-action rally festival, not only celebrating Colin's achievements of Colin but also the world of rallying, old and new.
The event will use a combination of tracks within the Knockhill venue, including the famous racing circuit. "Colin competed here so many times in rally events, raced here in the British Touring Car Championship tested here often and came for some fun too," said Knockhill Events Director, Stuart Gray.
"We believe this will not only be a special event for Colin's 20th anniversary, but will also be a showcase event for rally sport in the UK."
Organisers are working with the McRae family and an impressive display of Colin's cars will take centre stage the event. Jimmy McRae, Colin's father said: "It seems only like yesterday that we all shared in Colin's success and we believe that this event will relive his achievements and showcase rallying in Scotland at a great venue. "
More information will be released over the coming weeks on the Knockhill website.
Martin Wishart to Open New Restaurant
Top Scottish chef Martin Wishart is to team up with Malmaison Glasgow to open the second The Honours restaurant.
The Honours Glasgow will mark Wishart's fourth venture and the second bearing The Honours name.
"This is a new and exciting venture with the Malmaison Group which I believe will further enhance Glasgow's already growing reputation for great food and hospitality," said Martin.
Located within Malmaison Glasgow, the 106-cover restaurant offers traditional and modern French cuisine and has a menu that boasts a wide range of prime cuts from the grill, oysters and scallops. And if you're feeling peckish, highlights include Roast Orkney Scallop & Bellota Ham and The Honours Chateaubriand.
Have Your Say
The hunt is on for Scotland's top spa! The people of Scotland have been voting in the Good Spa Guide Awards 2014 and the shortlist for Best Spa In Scotland has now been announced.
Kohler Waters Spa at the Old Course Hotel
Norton House Hotel and Spa
Stobo Castle Health Spa
Spa at Blythswood Square
Trump Turnberry, a Luxury Collection Resort
The winner will be chosen by an online ballot vote so add your tuppence-worth to the judging process by casting your vote at www.goodspaguide.co.uk/awards.
Award Winning Novelist To Appear At Special Edinburgh International Book Festival Event
American writer Marilynne Robinson will be making a rare UK appearance to talk about her new book, Lila, at the Assembly Roxy, Edinburgh, on Sunday 16 November.
Robinson, author of three highly acclaimed and award-winning novels, Housekeeping, Gilead and Home, as well as a number of non-fiction books including When I Was a Child I Read Books, has won the Pulitzer Prize, the Orange Prize for Fiction, the LA Times Book Prize and the National Book Critics Circle Award for Fiction and has been shortlisted twice for the Man Booker International Prize.
Her new novel is set in her home state of Iowa in the 1950s and is an unforgettable story about a girl who lived on the fringes of society.
"Marilynne Robinson is an extraordinary contemporary novelist, whose stories and characters enthral her readers," said Nick Barley, Director of the Edinburgh International Book Festival said.
Tickets cost £9.00 and are available at from the Edinburgh International Book Festival or by calling 0131 718 5666.