News & Views – September 24
---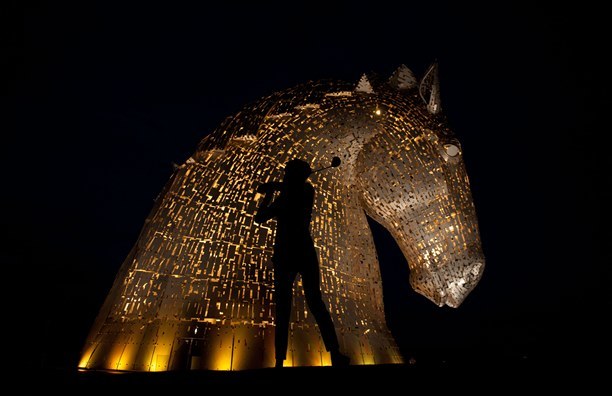 The Kelpies glow gold for The Ryder Cup 2014
Ryder Cup 2014 Celebrations
Last night, September 24, Scotland celebrated The Ryder Cup 2014 with flashes of colour across the country – The Kelpies turned gold in honour of the occasion, while Edinburgh Airport's 57m high Air Traffic Control Tower glowed crimson and, over on the west, the Glasgow skyline sturck gold at the SSE Hydro.
"With Ryder Cup week finally upon us, this is a golden opportunity for Scotland to shine on the world's stage," said Mike Cantlay, Chairman of VisitScotland. As some of the most iconic structures from east to west light up on Wednesday evening, it reflects the incredible opportunities for tourism that come with hosting one of the world's biggest sporting events."
Unlocking The Secrets of the Caledonian Canals
As part of Doors Open Day, this weekend, Scottish Canals and the Scottish Waterways Trust are inviting the public to have a rare glimpse behind the scenes of the Caledonian Canal, the waterway which cuts across the Highlands.
On September 27, Scottish Waterways Trust Heritage Officer Stephen Wiseman will take visitors on a guided walk around Banavie's Neptune's Staircase – the iconic flight of eight locks the English poet Robert Southey once called "the greatest piece of such masonry in the world."
On September 27/28, visitors can tour historic Telford House East, which sits on the banks of Neptune's Staircase, with staff on hand to provide guided tours of the building, answer any questions and tell tales of its past. For more information, visit www.scottishcanals.co.uk
New Arrival At Edinburgh Zoo
Edinburgh Zoo has a new baby – a female three-banded armadillo, Rica. Rica was born to mum Rio and dad Rodar on August 24, 2014 and has almost quadrupled in weight since she was born, when she was the same size as a golf ball.
Scotland's Missing Golf Courses
Scotland currently has over 550 golf courses – but there used to be many more. Hundreds of Scotland's golf courses have been lost over the last century either because they've relocated, been forced to close or been completely redesigned.
Now, some of these 250 former courses have been formally recorded as part of a project by RCAHMS to establish a comprehensive database of Scotland's landscape, including aerial photographs of Scotland's golf courses.
Scotland's 'lost' golf courses include:
Cramond Brig Golf Club (Edinburgh). Founded in 1907, this 18-hole golf course was situated in the landscaped grounds of Cammo House and in the early 1920s, had over 700 members. Now, only the ruined Arts and Crafts clubhouse survives.
Hill of Tarvit Mansionhouse (Fife). Private golf courses created in the grounds of country houses were not uncommon in the 20th Century but most were short-lived and quickly returned to pasture. In 2008, The National Trust recreated this 1920s private golf course, where only hickory golf clubs and replica 1920s golf balls are used.
Glasgow, Leverndale Hospital, Leverndale Golf Course (Strathclyde) The 9-hole course at this Victorian lunatic asylum was for staff and patients and is now buried under a housing development.
Kippford Golf Club (Dumfries and Galloway) Founded in 1905, this nine-hole course was converted to farmland in the 1950s and is now lost under forest.
Roan Head course (Flotta) The eighteen-hole golf course on Flotta was built and maintained by the Navy around World War 1 – each ship stationed at the island designed and constructed a hole, with one battleship, possibly HMS Canada or The King George V, spending over £70 on turf from a famous Scottish golf course.
Well Done Dunbar!
Over 50s' travel and days out website, Silver Travel Advisor, has named Dunbar as one of the UK's top places for families to celebrate Grandparents' Day on October 5.
Six locations in England, Scotland and Wales were selected by members of Silver Travel Advisor, who described Dunbar as 'an east coast gem'Dunbar is an east coast gem, highlighting The East Links playground, kite flying, hunting for golf balls in the rock pools, the Dunbar Museum and the nearby John Muir Way.
"Our members are active, mature travellers," explained Debbie Marshall of Silver Travel Advisor. "Between them, they have come up with their pick of the top locations for grandparents, their children and grandchildren to enjoy a family day out together."