Our Night At The Glamis Prom!
---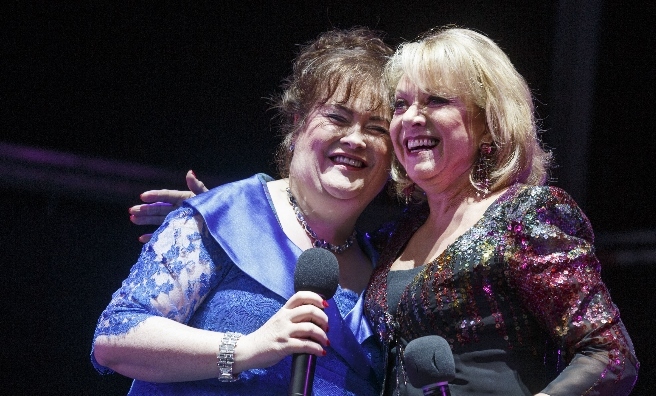 Susan Boyle and Elaine Paige - First Ladies of Glamis Prom. Steve Welsh Photography.
Three of the UK's top singers, the pop of Prosecco bottles being opened and warm sunshine – the long-awaited return of The Glamis Prom was a night to remember!
Opening with a jaunty performancy by the Cairn String Quartet, a glance around the gardens in front of Glamis Castle revealed that everyone appeared to be tucking into the most impressive picnics – with several tables adorned by candelabras and almost all tables and picnic rugs having at least one bottle of fizz on display!
The whole town had come along to cheer for Norman
Next up – Norman Bowman. A West End star who recently appeared alongside Kenneth Branagh in Macbeth, that wasn't Norman's only connection to the famous Angus castle – he's from just along the road.
Born and brought up in Arbroath, when Norman walked onto the stage in his kilt, it appeared the whole town had come along to cheer for Norman (including me and my family!)!
And such was Norman's charm, he soon had everyone in the audience (and not just us Red Lichties) singing along with him – and there was hardly a dry eye in the house when he sang Bring Him Home. Even my big brave cousin had a wee sniffle.
We hardly had time to open another bottle of fizz when the Royal Philharmonic Concert Orchestra took their place on stage – and before we knew it, Elaine Paige was showing us just why she's The First Lady of Musical Theatre.
Elaine sang all her hits, told a few funny stories – and then introduced 'a very dear friend'… And none other than Susan Boyle walked out in front of the 5,000 strong audience.
There was silence as Susan Boyle sang
The audience went wild as Susan joined Elaine for a rendition of 'I Know Him So Well' – and then there was silence as Susan Boyle sang the song that she revealed "got me into an awful lot of trouble" – 'I Dreamed A Dream' from Les Miserables.
Silence erupted into a roaring standing ovation and with a wave, a smile and a flash of a diamond and sapphire bracelet that perfectly reflected the sun's final rays, Susan Boyle had gone.
A triumphant finale by Elaine Paige
The evening finished with a triumphant finale by Elaine Paige before spectacular fireworks lit up the sky… and it was time for us all to head home. Singing all the way – and, in most cases, that was nothing to do with the fizz but everything to do with the singers and musicians who had treated us to such a wonderful evening in one of the most spectacular settings possible.
Early bird tickets are already on sale for next year's Prom! Click here for more details.