North East Coast Lights Up Art Exhibition!
---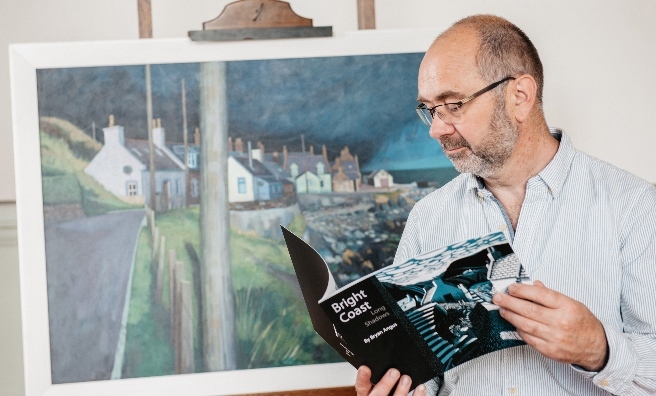 Bryan Duff's exhibition, Bright Coast, is on display at Duff House, Banff. Photo Crown Copyright Historic Scotland. Reproduced courtesy of Historic Scotland.
The varied landscape of Aberdeenshire's north east coast is to be showcased in a new exhibition at Duff House, in Banff.
Bright Coast – which opens on Saturday, 18 July at Duff House near Banff – will see a collection of new artworks by Banffshire-based artist, Bryan Angus, go on display for the first time.
Drawing inspiration from the small fishing villages and towns
Bryan's work captures local coastal life in north east Aberdeenshire, the landscape and its surroundings, with many of his pieces drawing inspiration from the small fishing villages and towns of Banff, Gardenstown, Macduff and Cullen.
The works on display at Duff House will demonstrate two different stylistic approaches to the same subject matter: the coastal landscape. Whilst one gallery space will depict scenes in brightly coloured paint and pastel, the other will see the same subject matter explored through the contemporary process of lino printing, a specialism of Bryan Angus.
"It's extremely fitting that Duff House is to welcome a new collection of work from a local artist, depicting the local coastline," said Lorna Ewan of Historic Scotland, who operate the House. "Bright Coast will present our visitors with new interpretations of some familiar view points and perspectives, as well as providing a wonderful opportunity to view and explore the dramatic coastal landscape of this region in a new way."
'Capturing the dramatic local coastal landscape'
Bryan Angus added: "The works included in this new exhibition have been created to demonstrate the beauty and quality of natural light this region of Scotland benefits from at a particular time of year, whilst capturing the dramatic local coastal landscape."
The Bright Coast exhibition at Duff House, which opens to the public on Saturday 18th July, will run until Sunday 30th August 2015 and is included within the admission price to the House. This exhibition is free for Historic Scotland members.
For more ideas about places to go and things to see across Scotland, pick up a copy of this month's issue of The Scots Magazine. In the shops now or order online here.
---
Duff House
Duff House is masterpiece of baroque architecture and one of the most important buildings in the North of Scotland.
It was designed in 1735 by the renowned Scottish architect William Adam and is now a five-star visitor attraction, run in partnership by

Historic Scotland

, the

National Galleries of Scotland

and

Aberdeenshire Council

.
The National Galleries provides most of the artworks on permanent display in the House, including important paintings by El Greco, Gainsborough and Raeburn.