The Scots Magazine October 2020 Issue – Out Now!
---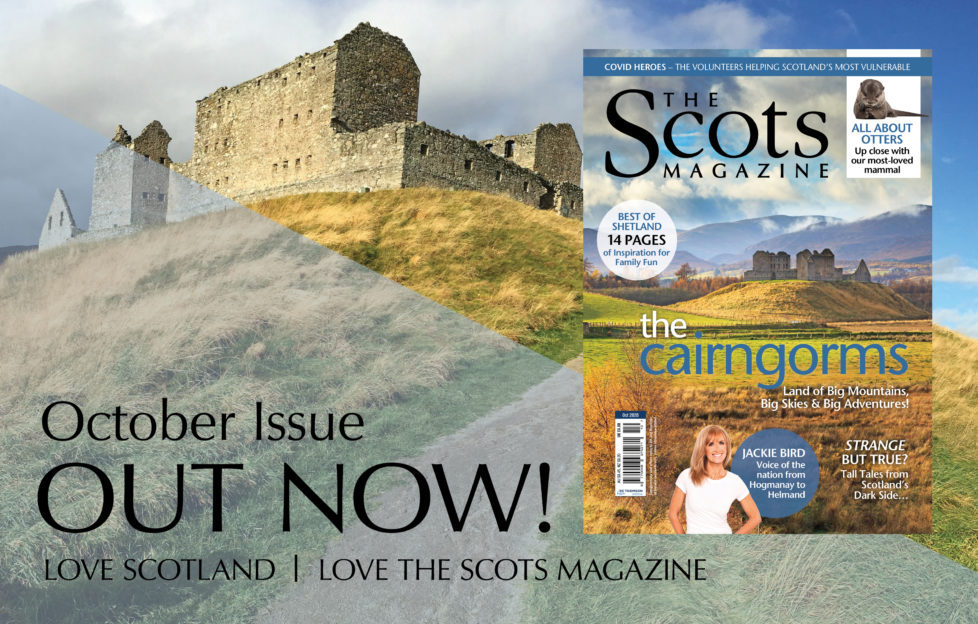 ---
You can find your nearest stockist by entering 
your postcode here or purchase a single issue online.
Get it digitally to your smartphone or tablet, too
– just visit the app store, or get a digital subscription.
---
CONTENTS
Escape into the wilds with mountain running in the Cairngorms 
My Scotland top outdoor writer Cameron McNeish reveals his ultimate Scottish destinations
The latest releases in both fact and fiction, plus the team's must-read list Scottish Bookshelf
As the country opens up, discover the best events outside, indoors and online
Wee Blether with Roberta Hall-McCarron, head chef in Edinburgh, and star of the BBC's Great British Menu
Jim Crumley goes wildlife spotting on Skye, the island of otters and eagles
The Great Eight Explore the fairytale Brodie Castle in Moray and its fantastic treasure trove
Author Robert J. Harris brings Arthur Conan Doyle's greatest character back to life
 A-Z Of Great Scots John Duns was the 13th-century scholar who lent his name to the dunce's hat
Discover some of the oddest events in Scottish folklore
Kenny MacAskill remembers Andrew Fisher, the Ayrshire coal miner who became prime minister of Australia
Head to Westray in the Orkney islands, affectionately known as Queen o' the Isles in our Scottish Islands series
Carina's Kitchen has a winning recipe for a delicious breakfast
The Kindness Street Team brings cheer to Glasgow's homeless
Polly Pullar's daring rescue of tawny owls that have a habit of getting stuck in stove pipes
Composer Matilda Brown turns her hiking adventures into soaring instrumentals
Sound Of Scotland Glasgow-based Carla J. Easton is reclaiming the word "weird"
Cameron McNeish celebrates his 21st book on Scotland's mountains
Give orienteering a try, with fun and challenging courses across the country
Read our exclusive interview with Scotland's favourite news reporter Jackie Bird
Slàinte Mhath Your pronunciation guide to Scotch whisky's biggest tongue twisters
Head to Scotland's National Galleries for their triumphant reopening
Enjoy our fantastic Focus On Shetland, Scotland's most northerly isles
Plus our pick of the best…
The Great Gear Guide, Around Scotland events,
and reviews of the best hotels and restaurants
will keep you right this month.
---

Never Miss An Issue

Of The Scots Magazine.
Save an incredible 50% on the shop price when you subscribe!
Or find y

our nearest stockist

here

.