Opera North Reveals All!
---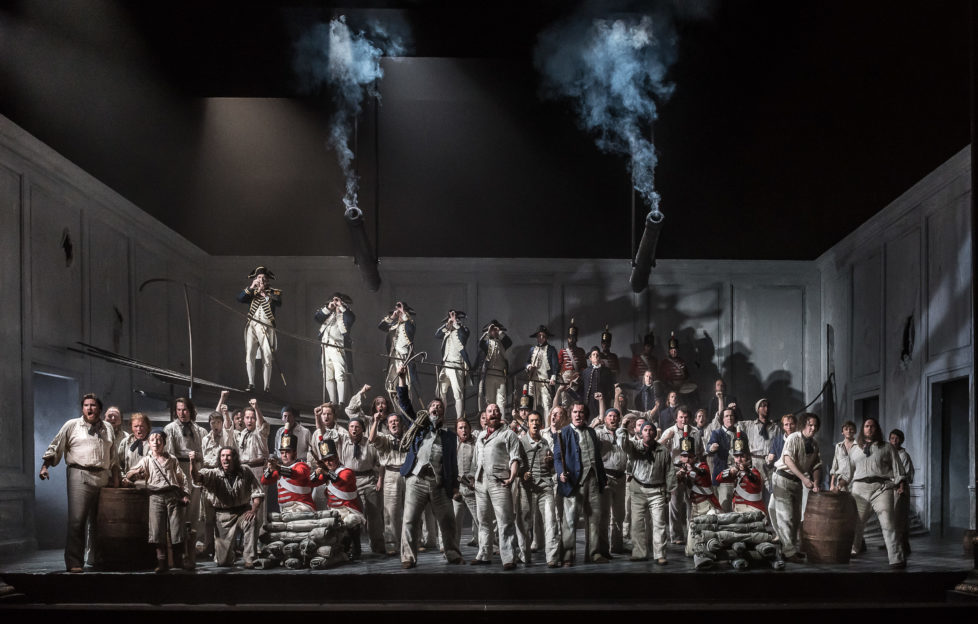 Opera North's BILLY BUDD by Britten. © CLIVE BARDA/ ArenaPAL
This winter, Opera North will explore the unspoken, the hidden and the mysterious as it brings three compelling operas to Festival Theatre Edinburgh, each with a secret at its heart.
What's more, while the consequences of clandestine affairs and past wrongs unravel on stage, Opera North will be revealing a few well-kept secrets of its own, including:
What's the secret to surviving tearjerkers?
How do opera singers perform without microphones?
How do performers cover up a mistake on stage?
Il Tabarro & Suor Angelica
A double-bill of operas by Puccini opens the season on Wednesday 30 November with two short, sharp bursts of dramatic tension and emotional power, lasting under an hour each.
The evening begins with the dramatic intensity of Il tabarro (The Cloak), a dark and brooding thriller set on the banks of the Seine, which charts the terrible consequences when a husband discovers his wife is having a secret affair.
Il tabarro is paired with Suor Angelica (Sister Angelica), Puccini's personal favourite among his operas.
It tells the story of a young woman, kept in a convent against her will, whose illegitimate child has been kept secret to preserve a powerful family's reputation.
Only after another harrowing secret has been revealed is she finally set free. This is vintage Puccini – think Tosca and Madame Butterfly, packed up small.
Billy Budd
Completing the Season of Secrets is a brand new production of Benjamin Britten's Billy Budd, which returns to Opera North after an absence of over 20 years.
One of the greatest 20th century British operas, it is a haunting, deeply atmospheric and psychologically powerful work, performed by an all-male cast and a large-scale chorus.
Spilling The Beans!
As these hidden truths are revealed to devastating effect on stage, Opera North will be celebrating its Season of Secrets by sharing a host of trade secrets, operatic know-how and backstage photos.
On Twitter, Facebook, Instagram and Playbuzz you can discover, amongst other things, how many hours are spent perfecting each note before an opera even reaches the stage, how to make a wig look fantastic night after night, and the best way of achieving a truly convincing stage death.
And There's More!
Tickets start from just £17.50, and anyone booking for the performance of Billy Budd on Thursday, December 1 can get a bonus introduction to the opera from actor Anthony Haddon and musician Sylvia Hallett beforehand.
The Ladies of the Opera North Chorus will also be performing a free lunchtime concert at the Scottish National Gallery on Thursday 1 December.
And on the morning of Saturday 3 December, members of the cast and Opera North's music staff will bring Billy's story to life in a free Family Taster Session for ages 7 and above.
To book tickets, click here, and, for a wee taster,
check out the video below!
---
Performances
Opera North's Season of Secrets at the Festival Theatre Edinburgh
Wed, November 30:
Il tabarro / Suor Angelica
Thurs, December 1:
Billy Budd
Fri, December 2:
Il tabarro / Suor Angelica
Sat, December 3:
Billy Budd
Box office 0131 529 6000 / edtheatres.com.