Put Steps Into Your Spring
---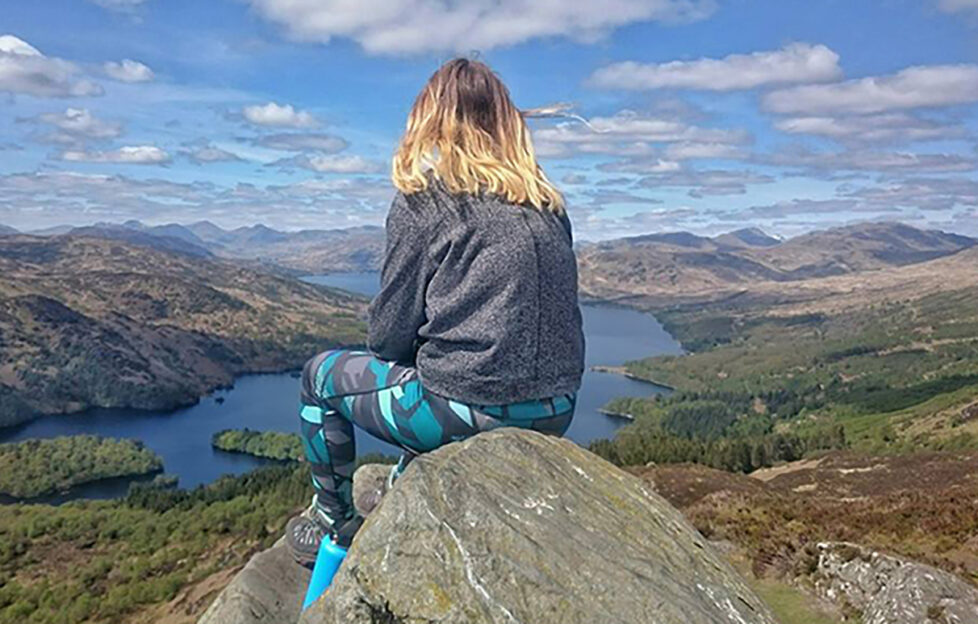 Spring has only just arrived, and it's a

lready

causing mischief
Bursts of sunshine and a surprising warmth sees Scots across the country jumping for joy, and straight out of their cosy layers and winter woollies.
Pasty limbs have been liberated, free to bask in the sunshine for the first time in what feels like an age.
But, we know better than to get too excited. 'Breath on the air' temperatures and soggy fog were quick to return in a freakish flashback to earlier months. Rain, hail, sunshine, snow, wind and mist, all in one month. It could only happen in Scotland!
Regardless of the weather's teasing temperament, I am optimistic about April. Sunshine can never be guaranteed, but at least we have more daylight to play with. Suddenly the opportunities for outdoor fun seem endless, the 'light nights' warranting their very own bucket list. For me, an ideal day out in spring involves a good old stretch of the legs followed by a culinary reward of some description.
Plentiful hours to frolic in the fresh air, not a premature sunset in sight. I intend to tackle some new walking trails this summer, and revisit some of the favourites. Here are a trio of short walks to inspire you to put some steps into your spring.
Ben A'an
Now, here's a hill that doesn't mess about. It's short and very steep with one of the best views around; a 'mountain in miniature' so they say.
The joy is that in just over an hour – depending on your pace – you'll be gracing the top and can appreciate that super bonnie vista that everyone's been banging on about. Perched on the giant rocks at the top with the Trossachs and Loch Katrine at your tiptoes, you be breathless from the incline and the sheer beauty. It's a popular wee peak for a reason.
FOODIE TIP: Pack a picnic to enjoy at the top, and savour the views for as long as possible. Failing that, the nearby Byre Inn is an absolute must for its quaint surroundings and fantastic food.
The Pentlands
I am eternally grateful for the perfectly balanced city that I call home.
Edinburgh isn't just good looking; we are truly spoiled with history, modern infrastructure, festivals, local and international eateries, and a variety of open, green spaces – the Pentlands being my favourite example of the latter.
I do enjoy the crazy-steep hills on offer, however a leisurely springtime stroll is better served by Harlaw & Threipmuir Reservoirs. This completely flat woodland wander is doable in an hour, and the wild scenery will make you feel much further from the city than you are.
FOODIE TIP: Stop by the Vanilla Pod food stall next to the Harlaw House Visitor Centre for healthy and delicious homemade treats; sweet or savoury crepes, soup, and cakes. High quality fast food in an unexpected location.
The Birks of Aberfeldy
No wonder Rabbie Burns was inspired to write a poem about this place. Perthshire's walking trails are all special, but this wee cracker has a certain magic about it. The scenery is lucid in the sun's beam, while the Moness Burn filters serenely through the gorge. A well-maintained path leads you past enchanting waterfalls, over picturesque bridges and up a notable number of steps.
You quite literally follow in the footsteps on our National Bard, stumbling across little tributes to Rabbie himself along the way. The Falls of Moness is the star attraction at the top, though the whole 1 – 2 hour walk is nothing short of delightful.
FOODIE TIP: Stick around for dinner in Aberfeldy at the Ailean Chraggan Hotel, affectionately known by locals as 'The Chraggs'. A friendly establishment, where delicious dishes are served along with a good atmosphere.
Happy springtime folks!
Visit Kay's blog, The Chaotic Scot, for locations
of great walks and even better food…