Remembering The Fallen
---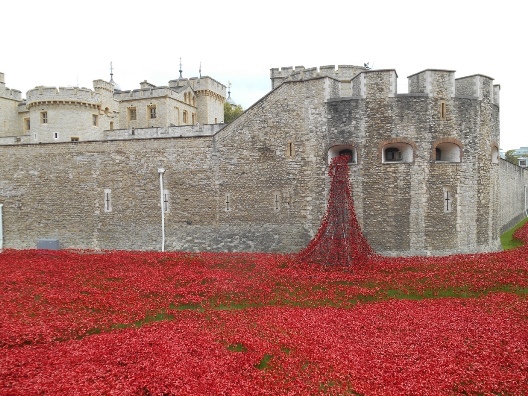 The poppies at The Tower of London. Photo by Judith McLaren
As Remembrance Day approaches, Scots Magazine designer Judith McLaren recently visited the Blood Swept Lands and Seas of Red art installation at The Tower of London, which commemorates those who lost their lives in World War 1.
"It is an incredibly emotional display," said Judith, whose photos appear above. "The scarlet ceramic poppies tumbling down the walls of the Tower of London and towards the famous moat moved me to tears."
The November issue of The Scots Magazine features an article about James McBey, an Aberdeenshire artist whose depictions of the First World War and, in particular, the Arab Campaign in the Middle East, captured this terrible period in history for future generations.
In addition, Paul F Cockburn talks to three former servicemen about their personal reflections on the enduring power of Remembrance Day. "I think it's remarkable that, as a nation, we recognise sacrifice and service still," said Phil Cox, chief executive of Scottish Veteran Residences and a member of the RAF for 20-plus years. "We've never stopped remembering the young men and women who have served with enormous professionalism and have done a fantastic job."
To order your copy of The Scots Magazine, visit www.scotsmagazine.com/subscribe.