Russia's Friendly Invasion of Montrose Air Station!
---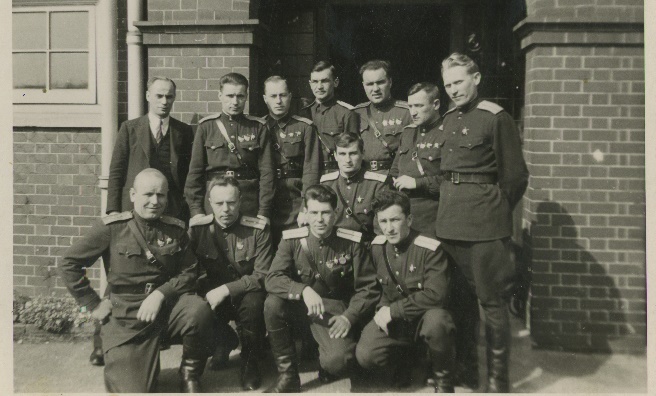 A group of the Soviet airmen during their top secret training mission to Scotland
On May 15, the opening of a special exhibition at Montrose Air Station Heritage Centre was attended by a distinguished group of Russian visitors.
The Russian guests including the Consul General, representatives of Russia's top aviation museum and a descendant of an elite Soviet pilot who was sent to Scotland during World War II to undergo specialist aviation training.
"Montrose Air Station's exhibition 'The Russians Are Coming' reveals how 24 'Hero-Pilots' of the 10th Guards Air Division secretly came to Scotland in 1943 to learn how to fly Whitworth Armstrong Albemarle bombers," explained Dr Dan Paton, curator of the exhibition. "This story was unknown until it was discovered by Russian historian Anna Belorusova, whose grandfather was one of the pilots involved in the operation"
'I started this research to get to know my grandfather'
Anna only realised her late grandfather, Commander Peter Kolesnikov, had spent time in Britain when she found a map of the coast of Britain, a Christmas menu adorned with a thistle and a photograph of him with 10 other Soviet airmen amongst his war time possesions. "I started this research to get to know my grandfather and it led to the unfolding of the incredible saga," said Anna, whose investigations led to the discovery that Soviet pilots had secretly trained at Errol in Perthshire and Hurn in Dorset from 1943-1944.
"The Soviet pilots' fascinating story has struck a powerful chord both in the UK and Russia," continued Anna, who attended the opening of the exhibition. "The exhibition brings to light a hitherto neglected piece of air history, while also highlighting the wartime alliance between the two countries. The Soviet airmen's memory is in very good hands in Montrose."
'Commemorate our shared page in the history of World War II'
Russia's Consul General, Andrey A. Pritsepov, added: "It is greatly symbolic that we are here in May, as we remember the great victory of 70 years ago – a great victory that these airmen helped deliver with their devotion and self sacrifice. It is very important to commemorate and celebrate our shared page in the history of World War II, when Scotland was home to these young Soviet Pilots."
The Russian delegation also included Elena Nikitina, Head of Vnukovo Air Museum, Moscow, and Alexei Timofeev, a pilot and the former Head of Vnukovo Airport. "The Soviet airmen who came to Scotland at the height of the war had one major aspiration," said Alexei Timofeev, who is also a pilot."To defeat the enemy and go back to what they loved to do – flying airplanes in peaceful skies.
"We, the post-war generation of pilots, had that privilege thanks to their service and sacrifice. That should never be forgotten."
The Russians Are Coming exhibition will be on display at Montrose Air Station over the summer. For more information, click here.