Saltire Society's 80th Anniversary!
---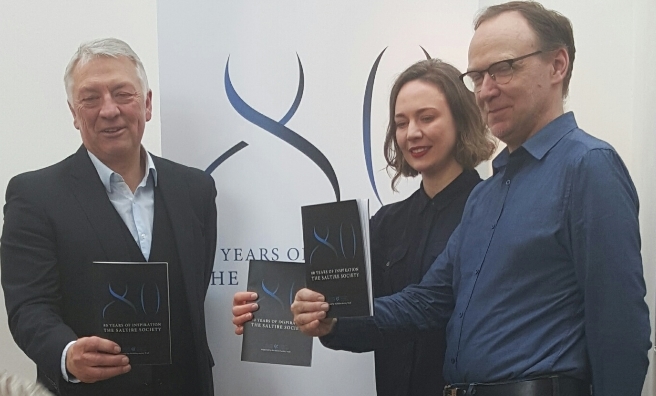 Saltire Society launch their 2016 plans - Jim Tough, Beth Bates and Gerry Hassan
A £50,000 'Inspiring Scotland' funding programme for emerging Scottish talent and Scotland's first ever online literary festival are just two of the eye-catching initiatives revealed as part of a busy programme of activities to mark the 80th anniversary year of the Saltire Society.
At a launch event hosted at the Dundee Contemporary Arts, the Saltire Society unveiled a packed eight-month schedule of events, lectures, discussions and awards, including partnerships with the British Council Scotland, Edinburgh International Film Festival, Glasgow Women's Library and Hands up for Trad.
The programme will include a wide array of prominent contributors, including Scottish composer Professor Sir James MacMillan, writer and broadcaster Kirsty Wark, novelist Michel Faber, writer and journalist David Robinson and entrepreneur Chris Van der Kuyl, who popularised the bestselling computer game Minecraft.
To help nurture and develop the next generation of Scottish creative talent
Included as a key part of the anniversary schedule is the £50,000 Inspiring Scotland programme, which will invest in ideas and innovation to help nurture and develop the next generation of Scottish creative talent. It will include international travel placements for students across a range of creative disciplines, as well as the opportunity for one emerging artist to spend three months in New York City, following in the footsteps of renowned Scottish artist Steven Campbell.
"We have always held dear to our aim of one day being able to support a scholarship programme based in New York for a practising artist," said Carol Campbell, Steven Campbell's wife and founder of The Steven Campbell Trust.
"There can be few other cities where becoming an overnight success is not some idle daydream but can, with hard work, be achievable. In Steven's case, we finally hit success when the Barbara Toll Gallery agreed to take three canvases for a summer exhibition.
"This led to a review by John Russell for the New York Times and the day following the review saw all the paintings sold, a waiting list and a one man show scheduled. That's the kind of dream we want to help facilitate and we are delighted to be able to announce that this programme is now a reality. Steven would have been immensely proud to know that his name and influence still resounds today."
Scotland's first ever online literary festival
In June, Scotland's first ever online literary festival will include a programme bursting with web events, giving readers the chance to engage with some of their favourite writers including Michel Faber, Ryan van Winkle and Kirsty Logan.
Also announced were a series of lectures on Art, Science and Public Life and discussions between academics on some of the biggest issues facing Scottish society and culture today.
Finally, over the course of the next few months the critically acclaimed film Dummy Jim will be screened at all Saltire Society branches across Scotland, from Inverness to Dumfries and from Helensburgh to Aberdeen. The film is an adaptation of the first-hand account of profoundly deaf Scot James Duthie's 3,000 mile journey from northern Scotland to the far north of Scandinavia.
'An excellence that has international reach'
Scottish composer Professor Sir James MacMillan will contribute a special lecture to the Saltire Society's 80th anniversary programme in May. "I am delighted to have been invited to contribute to the Saltire Society's 80th anniversary celebrations," said Professor MacMillan."It is important that Scottish advocates of the arts continue to support and celebrate an excellence that has international reach.
"Scotland, now more than ever, needs to hear a wide range of perspectives rather than a narrow orthodoxy. The Saltire Society could be such a platform – just as important now as it was in 1936."
---
The Saltire Society
The Saltire Society encourages everything that might improve the quality of life in Scotland by working to preserve all that's best in Scottish traditions and encouraging new developments .
The Saltire Society acts as a catalyst, celebrant and commentator through an annual programme of awards, lectures, debates and projects.
Founded in 1936, the Saltire Society is a non-political independent charity with membership branches throughout Scotland.
Membership is open to all individuals and organisations that support the aims of the Society.