Scotland For Elephants
---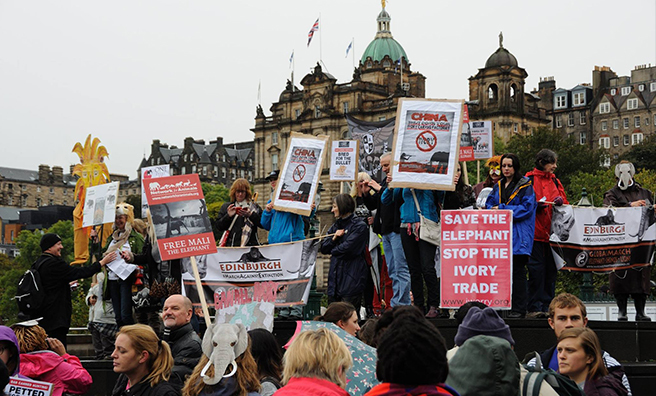 Action groups march against the ivory trade
There is world-wide condemnation for illegal ivory trading, but even legal exporting is under pressure from animal conservationists. Statistics show that an elephant is killed every 15 minutes which means, at current rates, there will be no elephants left in the wild by 2025.
The UK is the world's biggest exporter of legal ivory, exporting three-and-a-half times the amount exported by the USA. Whatever the means, illegal or otherwise, the threat to these animals is huge.
In 2013, under the banner iWorry, the David Sheldrick Wildlife Trust organised a global march to raise awareness of the horrendous poaching for elephants for their tusks for ivory trade. Following that, people passionate for the cause have formed their own splinter groups including Scotland's own, Scotland for Elephants and Rhinos.
Organised by Sue Raw and Janet McLeod, this Scottish action groups are holding a march in Edinburgh on October 7. The march starts at the Meadows at 12.30 before heading to The Bridges via the West Port and the Grassmarket.
They need your support, as the more pressure that is put on the British Government, the more chance is they'll consider banning all involvement in the ivory trade.
For more information go to www.facebook.com/scotlandforelephants