The Scotlanders | Autumn Country
---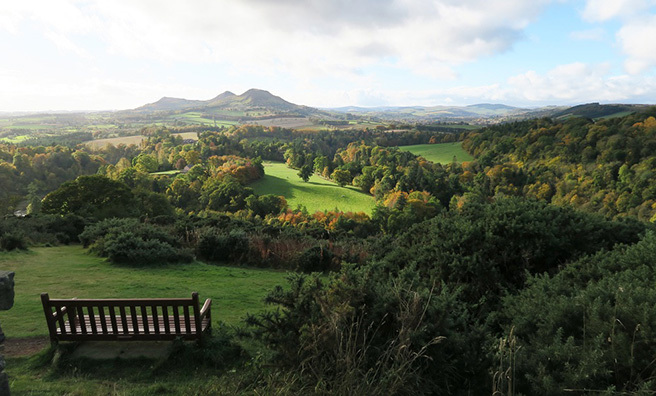 Neil looks back at his favourite time of year to be out and about in Scotland
The rain has been relentlessly battering off windows for what seems like months, it's dark by 3pm and the kettle is in overdrive. Welcome to a Scottish winter!
While the brilliant colours of a Scottish autumn already seem distantly faint, a look back at my favourite time of year unearthed plenty of the country's lesser-known gems. My autumn on the road saw a focus on Ayrshire, Perthshire, Argyll, the Borders and my #Isleathon adventure to Barra and Vatersay in the Outer Hebrides.
Beginning with Ayrshire, I racked up the mileage taking in the best of this under-visited neck of the woods. Going south on the A77 I could almost hear the school performances of Tam o'Shanter and To A Mouse ringing in my ears.
Many who have been through the Scottish education system will remember those anxious moments trying furiously not to forget your lines, and battling with your classmates to best dramatize the pronunciation for the likes of "sleekit" and "sonsie face"… Yes, Ayrshire is the epicentre of the memories – this is Burns' land.
In the Robert Burns Birthplace Museum, the National Trust have one of their top properties and a fitting tribute to the legendary bard.
Located in the town of Alloway, enthusiasts can easily spend half a day jumping between the museum, the immortal Burns cottage, the Auld Kirk that inspired Tam o'Shanter and the picture-prefect Brig o'Doon. You'll be seeing witches and giant mice in your dreams after a day down here.
Other highlights in the area include the majestic Culzean Castle, hovering grandly over the west coastline. One of Scotland's most distinguishable buildings, the castle's gigantic grounds are also perfect for a sunny day, and with September making up for our rather dismal summer, Culzean makes for a great autumn family day out.
The decidedly moodier Dundonald Castle, the atmospheric ruins of Crossraguel Abbey and an ice cream worth fighting the Vikings for in Largs completed a busy Ayrshire weekend.
In Big Tree Country
It wouldn't be autumn in Scotland without a trip to Perthshire. Big Tree Country comes to life under the fall season and the limitless walks, drives and cycling routes become even more appealing. Glen Lyon was a road trip of choice this year, a seemingly never-ending journey into increasingly rural Highland Perthshire.
Look out for deer and birds of prey and enjoy the solitude – this part of the country always amazes me with its dramatic remoteness, despite being only a short distance from the Central Belt and its population hub. A wander around Loch Earn as the sunset goes down completed a day to remember.
Argyll has long been something of a head-scratcher for me – why I have not set aside more time to explore its nooks and crannies has been irritatingly evasive. Coming as it does between my home base in Glasgow and the powerful draw of the north west, I'm always flying through it at speed. Noting its beauty certainly, but never pausing long enough to scratch beneath the surface.
With an invitation to stay at the magnificent Ardkinglas Estate this autumn, the opportunity was never finer. An incredible insight into privileged Highland life in times past, Ardkinglas is both a stunning piece of architecture and a treasure trove of family stories. Perched on Loch Fyne, the Estate is gloriously lush and with easy access to some of the land's best seafood, there's more than one reason to prolong your stay for a special occasion.
Reaching further into Argyll, the Cowal Peninsula offers a drive to remember along the banks of Loch Eck and the Argyll Mausoleum is an absolute gem in the tucked away village of Kilmun. Centuries of Clan Campbell history lie behind the heavy doors of the mausoleum and the view over the surrounding graveyard would make a good match for any Halloween story.
Borders on Film
With the Scottish Borders having played a prominent role in my scribbles this year thanks largely to the launch of the Borders Railway, myself and fellow Scotlander Kim joined up again with VisitScotland for an Instagram day promoting some of the Borders' highlights. Alongside many of the country's top Instagrammers, we darted about between the likes of Abbotsford House, Scott's View, Floors Castle and Smailholm Tower snapping away.
The Borders have really impressed me this year and I'm a definite convert. Offering so much more than just melancholic ruins, the area has an easy charm to it and I hope that 2016 sees the anticipated tourist surge come into reality.
A look back over my Scottish autumn ends with one of my highlights of 2015, a first time visit to the Isle of Barra. As part of the Scotlanders' hugely successful #Isleathon campaign, we teamed up with Calmac to deliver a social media overload for Scotland's west coast islands over the same weekend. Covering Mull, Iona, Colonsay, Bute, Eigg, Muck, Rum and Skye as well as my own sojourns to Barra and Vatersay we sought to showcase these national treasures simultaneously. Endless images of turquoise waters, dramatic landscapes and plates of seafood followed as the campaign engaged over a million followers over that weekend alone.
For my own part, I started by braving the elements, and groggily stormed up Heaval overlooking Castlebay at silly o'clock – kilt and all – for a baptism of fire and one of the finest vantage points in the Outer Hebrides. I then spent the rest of my day taking in the mind-blowing beaches of Barra and Vatersay, including watching the famous beach landing of the Flybe flight from Glasgow. A breathless day ended with a tour of Kisimul Castle, home of the Clan MacNeil and a clear contender for Scotland's most impressively located historical structure.
The Scotlanders eased into winter with our latest regional campaign, working alongside Visit Falkirk to promote the home of the Kelpies and the Falkirk Wheel. With a comprehensive itinerary covering food and drink, the outdoors, cultural attractions, heritage and crafts and industry we made the best of the dismal weather over a busy November weekend. The star of the show is of course the Kelpies, now firmly established as one of the country's most impressive and recognisable attractions. Since completion in 2013 they have opened up the town to tourist droves and our various themed blogs from around Falkirk will be hitting our sites in the coming days and weeks.
Coming Up
Having charged hell for leather around Scotland throughout 2015, I'm escaping the rain for some winter sun and a trip to Costa Rica. For my first time in Central America, I'm backpacking my way through rainforests, hiking active volcanoes and exploring national parks on the lookout for some natural wonders. As much as I love nature and animals, if I come face to face with any snakes you're not likely to hear from me again.
With the festive season then imminent, blog opportunities will have a seasonal focus and you can expect the Scotlanders to be covering plenty of Christmas markets and the plethora of events over the holiday period. We have big plans for next year too as we look to keep doing what we love around the country so stay tuned as we may be coming to a town near you!
---
More from Neil
His latest blog for us:
You can find more great travel blogs on Neil's website:
You can also follow his travel updates on Twitter,Pinterest, Facebook,Google+, and on Instagram.