Taking A Peek at Scotland's Thatched Buildings
---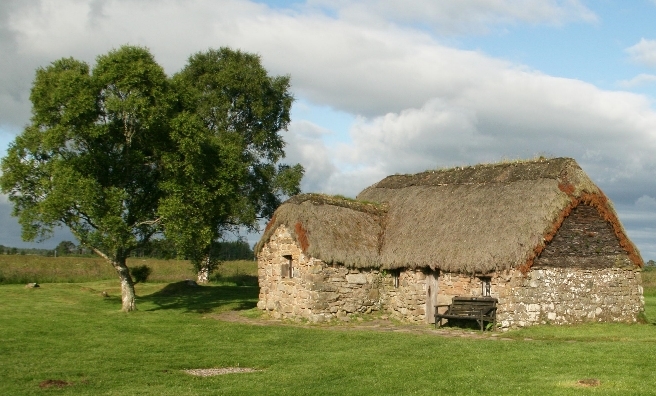 Old Leanach Farmhouse on Culloden Moor. Copyright @ Historic Environment Scotland
For the first time, all 305 of Scotland's thatched buildings have been recorded in a full-colour photographic survey.
A Survey of Thatched Buildings in Scotland involved visiting every one of Scotland's thatched buildings, from the Shetland Islands to the Scottish Borders, providing a comprehensive picture of an important and unique part of Scotland's built heritage.
This initiative is a partnership between The Society for the Protection of Ancient Buildings and Historic Environment Scotland, who grant funded the project. As well as containing locations, photographs and information on the type of thatch, the different techniques and its condition, it also offers an insight into each building, with stories from owners or occupiers featuring in a number of records.
'A unique part of our built heritage and culture'
"Thatched buildings are an iconic part of our heritage and Scotland's wider historic environment, particularly in our rural areas," said Colin Tennant, Head of Technical Education and Training at Historic Environment Scotland. "Scotland's thatched buildings provide an insight into the craft skills and traditional practices of our past.
"These new findings allow us to identify Scotland's surviving thatched building stock and will also inform discussions on how we can help conserve these buildings for future generations, whether that be through skills training, technical advice or different funding approaches."
Thatch was the first roofing material used in Scotland and, in some areas, thatching continued up until the start of the 20th century. However, factors including maintenance, changes in land use, loss of skills and the availability of other roofing materials led to thatched buildings largely disappearing from the Scottish landscape.
'Their historic value is immense'
Matthew Slocombe, Director of the Society for the Protection of Ancient Buildings, added: "These buildings are quintessentially Scottish and their historic value is immense.
"Yet perhaps because they are humble working structures or perhaps because of the very way they were built – lying low to protect and shield their former occupants – we have allowed them to slowly vanish from the radar. This survey will pay an important part in helping to safeguard and understand these valuable, iconic buildings."
A Survey of Thatched Buildings in Scotland is available to view and download for free online by clicking here.