Four Centuries Of Scotland's Untold LGBT History
---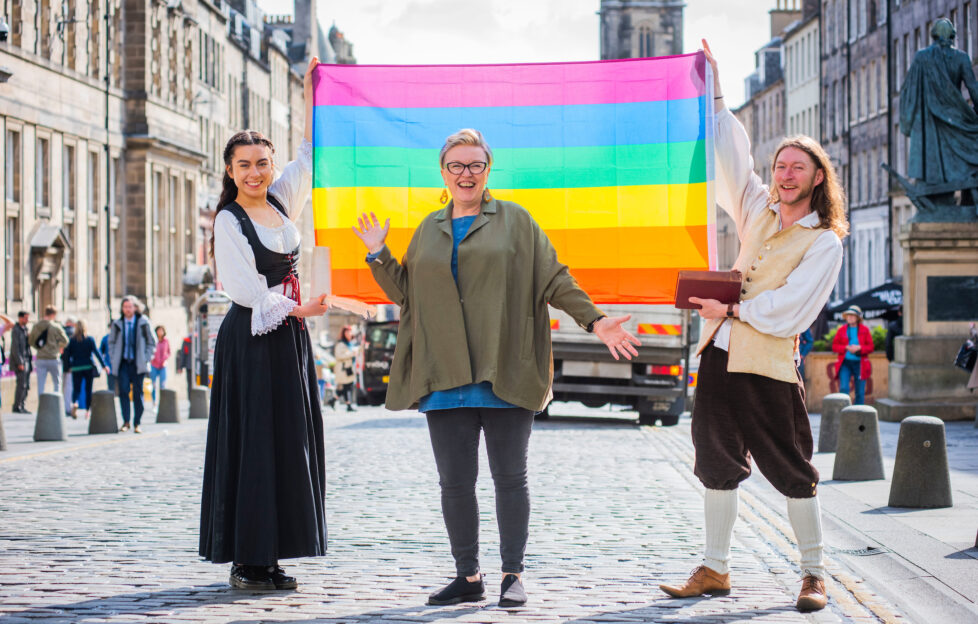 Photo - Chris Watt Web - www.chriswatt.com Mobile - 07887554193 Instagram - @chriswattphotography
Four centuries of Scotland's untold LGBT history to be revealed for Pride month in June…
Over four centuries of Scotland's untold LGBT history is to be revealed to the public for the first time as part of a series of guided tours, hosted by Edinburgh's The Real Mary King's Close, to celebrate Pride month in June.
The Real Mary King's Close, part of the Continuum Attractions Group Ltd, will be sharing its research in the series of new, educational and thought-provoking 'Pride History Tours', which have been designed to reveal the hidden histories of LGBT community life in Edinburgh from as far back as 1546 until 1912.
The tours will also support local charity, LGBT Youth Scotland. Proceeds from the new tours will be donated to LGBT Youth Scotland to support LGBTI young people all over Scotland and amplify their voices to national policymakers in relation to LGBTI equality and human rights.
The research was undertaken by The Real Mary King's Close's Robert MacRae (Guest Services) and endorsed by Dr Emma Macleod, Senior Lecturer in History at the University of Stirling.
Historical figures from Edinburgh's historic LGBT community are to be brought to life by tour guides in historical dress, who will lead the tours through the cobbled streets and beneath Edinburgh's Royal Mile.
Visitors will have the chance to meet the poet, Robert Fergusson, who studied at The University of St Andrews and was a source of inspiration for Robert Burns' own work. In 1772, Fergusson became a member of the mysterious secret society, The Cape Club, which held nightly meetings in taverns in Edinburgh's Old Town closes, like The Real Mary King's Close. The membership of The Cape Club included people from all walks of life, including merchants, bakers, and tanners as well as artistic types from theatre and musical backgrounds.
Also, be guided by the 19th-century physician, Sophia Jex-Blake, who devoted her life's work to advancing the rights of women in medicine and was the first practising doctor in Scotland. She also formed the group of female scholars at the University of Edinburgh known as The Edinburgh Seven, who caused uproar and controversy by competing on equal terms with the male students and in some cases performing better than them. In 2019, The Edinburgh Seven were awarded the posthumous honorary degree Bachelor of Medicine, Bachelor of Surgery by The University of Edinburgh.
Other insightful figures featured as part of the Pride History Tours, include Henry Stuart Lord Darnley, who lived in Edinburgh from 1556 and had claims to both the Scottish and English thrown as a descendent of James II of Scotland and Henry VII of England. Many historians agree that Henry was likely to be either gay or bisexual and may have had a romantic affair with Mary, Queen of Scots' private secretary, David Rizzio.
Another LGBT historical figure, Dr James Barry is often referred to as she/her, due to him being assigned female at birth. Dr Barry chose to live the life of a man throughout his entire adult life when he referred to himself as he/him. James arrived in Leith in November 1809, and it is around this time that he transitioned from female to male and began to live life as a man. James, who also lived on Edinburgh's London Road and Potter Row, studied a total of 13 subjects at The University of Edinburgh, including anatomy and surgery.
Paul Nixon, General Manager, from The Real Mary King's Close says, "We're extremely proud to be working with LGBT Youth Scotland and The University of Stirling to reveal over four centuries of Scotland's untold LGBT history as part of Pride month in June.
"Our series of six 'Pride History Tours' have been carefully designed to reveal the previously untold stories of LGBT community life in Edinburgh from as far back as 1546, at a time when homosexuality was a crime.
"We hope these tours will go some way to highlighting how far we've come in terms of LGBT equality and human rights, as well as celebrating Scotland's LGBT history."
Ali Kerr, Head of Partnerships at LGBT Scotland, added, "We are delighted to be the charity partner for these Pride History Tours. It is wonderful that visitors to The Real Mary King's Close can see Scotland's rich LGBT history brought to life through these true stories, and at the same time be part of a new story – making Scotland the best place for future LGBT young people to grow up."
The one-hour guided tours will start at The Real Mary King's Close, Warriston's Close, at 5.15pm and 5.30pm on six separate dates during Pride Month, including Friday, June 10, 17, 24, as well as Saturday, June 11, 18 and 25.
Tickets are priced at £23 per adult and £15.95 per child (5-15 years) and are available to buy online at www.realmarykingsclose.com/event/a-pride-history-tours