The Scots Magazine November Issue – Out Now!
---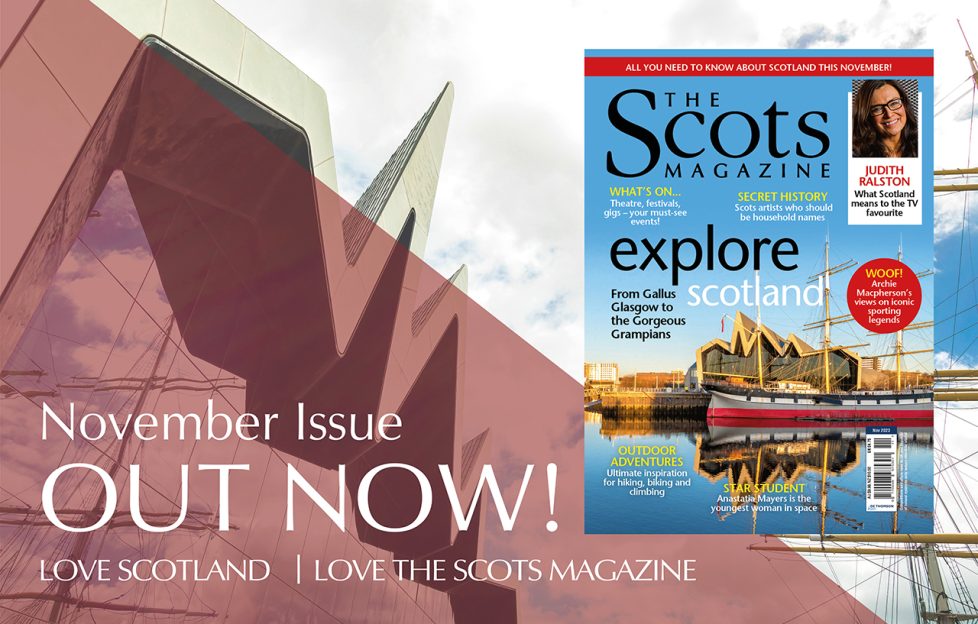 ---
You can find your nearest stockist by entering 
your postcode here. 
Get it digitally to your smartphone or tablet, too
– just visit the app store, or get a digital subscription.
---
CONTENTS
Focus On Glasgow Explore the best of gallus Glasgow with your 14-page guide
 My Scotland Popular weather presenter Judith Ralston plots her ultimate Scottish road trip

#OutAndAboutScotland The best pics shared with us this month on social media
Around Scotland Your top pick of events, festivals and concerts taking places across the country this month
Pass The Popcorn! Dundee's Discovery Film Festival celebrates 20 years of delighting young audiences
Take a fascinating tour of Glasgow's Necropolis
A Legendary Voice Renowned sports broadcaster Archie Macpherson on a new chapter in his writing career

Scotland The Brand Camping pioneer Vango is still breaking new ground after decades in the business
The Great Eight Museums across the Highlands are sharing their treasure troves with the world
Jim Crumley reveals staggering bird numbers this autumn

Scottish Bookshelf Interview with Scots crime writer Lisa Gray, plus the latest in Scottish fact and fiction
Sound of Scotland Musician Louise Quinn's latest international collaboration, plus a round-up of releases
Read our Wee Blether with Anastatia Mayers – the Aberdeen student who became the youngest woman ever in space!
 A-Z Of Great Scots Discover the award-winning animator Norman McLaren
Scottish Kitchen Take your Sunday roast up a notch with this star recipe
Slàinte Mhaith Eden Mill head distiller Scott Ferguson reveals the secrets to the gin giant's success

 From The Vault A beard is lost in a Dundee brawl in this month's strange tale from the archive
Polly Pullar discovers one man's mission to turn the tide on drug trafficking in Shetland
Sample the latest top tipples at the Gin To My Tonic Show at the SEC
Final Puzzle Piece An American hiker finds the "missing link" in the Land's End to John o' Groats route
Trail Less Travelled Fiona Russell finds solitude in the Grampian Mountains
Sun On The Rocks Try out great climbing routes at Hawkcraig Point, Aberdour
Artist To The Tsar Kenny MacAskill follows the career of war painter Sir Robert Ker Porter from Edinburgh to Russia
---
 
Never Miss An Issue

Of The Scots Magazine.
Or find y

our nearest stockist

here

.