The Scots Magazine October Issue – Out Now!
---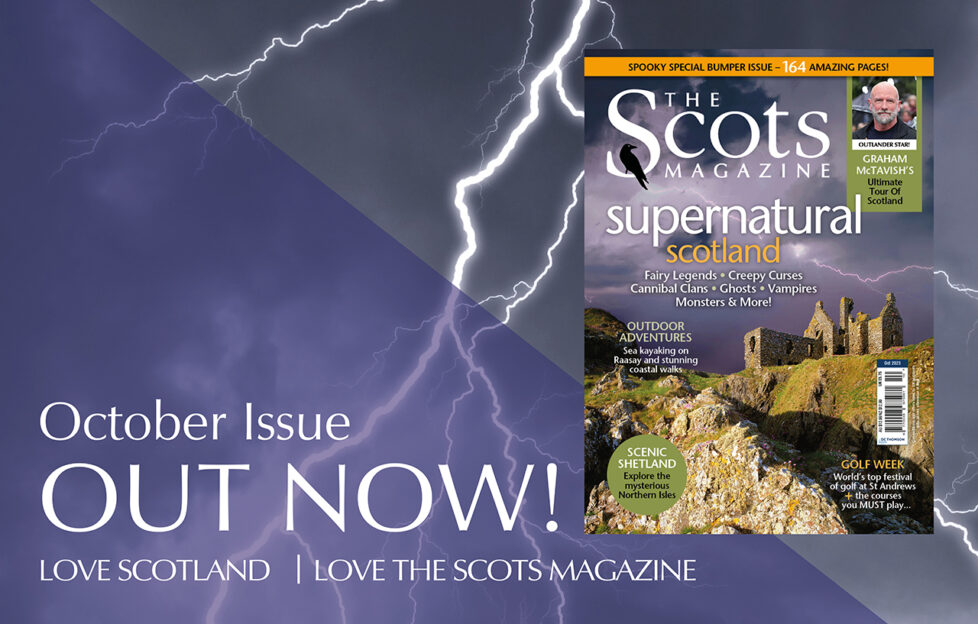 ---
You can find your nearest stockist by entering 
your postcode here. 
Get it digitally to your smartphone or tablet, too
– just visit the app store, or get a digital subscription.
---
CONTENTS
Focus On Sheltand Your 14 pages of the best to see and do on Scotland's northern archipelago
 My Scotland Outlander's Graham McTavish shares his favourite places around the country

#OutAndAboutScotland The best pics shared with us this month on social media
A golden opportunity The home of golf gets ready for St Andrews Golf Week, a major event in its calendar
Spurtles At The Ready Celebrating 30 years of the World Porridge Making Championships
Scotland The Brand: The story behind Highland Spring
Red Deer Pinewood Wildlife writer Jim Crumley on close encounters with red deer during rutting season
Reclaiming Ulva Could you answer the call to settle on this community-owned island?
The Big Interview TV star John Michie, best known for Taggart and Holby City, shares his career story
Through The Veil The Scots who reached through to the spiritual realm

Scottish Bookshelf Top new releases and recommendations
Sound of Scotland Broken Records discuss their "best-ever" release
---
Supernatural Scotland
Welcome to our bumper Hallowe'en issue which uncovers Scotland's spookiest stories, from cannibals to curses…
Travellers' Tales Unexplained encounters on road and rail
The Cannibal Clan The horrific legend of murderous Sawney Bean and his family
Strange Visions The 17th-century Brahan Seer's prophecies are still coming true today
Quartet Of Curses Four of the most famous Scottish curses – and what happened to the victims
The Hidden World The reverend trapped in the land of the fairies
Away With The Fairies A tour of wee folk hotspots and legends
A Tale With Bite Plucky schoolkids hunted the Gorbals Vampire
Dog Death Bridge A strange force compels pets to jump into this gorge
Watery Beasties Many curious creatures are said to inhabit Scotland's lochs, rivers and seas
Bumps In The Night The Sauchie Poltergeist left families in fear

The Great Eight Celebrating Scottish origins of Hallowe'en traditions
Wee Blether Jamie Corstorphine on the terror of Edinburgh's vaults
Magic In The Air Professor Richard Wiseman reveals mind-bending links to the supernatural
From The Vault Police and residents of Dundee chased the "Craigie Ghost" through city streets
---
 A-Z Of Great Scots The "bold, brave and sadly doomed" Isabella MacDuff
Scottish Kitchen Pumpkin Perfection a seasonal recipe from this month's star chef
Slàinte Mhaith Discover the dark stories of death, doom and destruction at Scotland's distilleries

 Room With A Boo! Scotland's most haunted hotels – that you can stay in!
Man Of The Loch Polly Pullar meets kilted boat pilot John Campbell of Ardchattan
Cycling's My Therapy: Meet octogenarian Mave, who's pedalled around Scotland
Our Next National Park? Cameron McNeish discusses the pros and cons
A Paddle On The Wild Side Kayaking in Raasay and Rona is a challenge for Fiona Russell
Jagged Little Hill Tackling the "dramatically breathtaking" Clachnaben
Teaching Minister Dr Andrew Bell's lasting educational legacy
Q-Aye! A selection of fascinating and fun facts from Scottish history and culture
---
 
Never Miss An Issue

Of The Scots Magazine.
Or find y

our nearest stockist

here

.