Setting The Scenes
---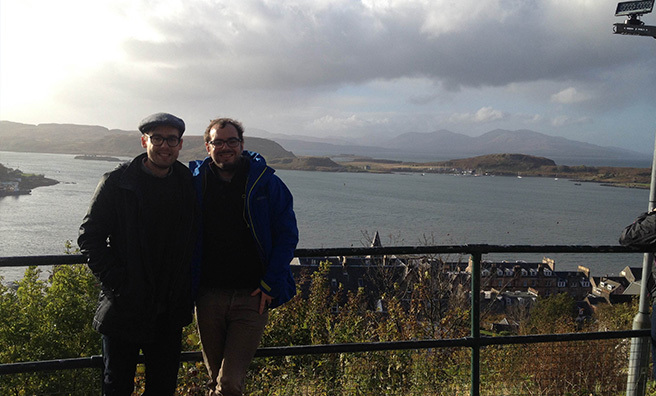 We're almost at the end of our tour with Scottish Opera's Cosi fan tutte!
With one week to go, I thought I'd give you an insight into the backstage workings of the show and the busy lives of our crew.
They make up a group of incredibly hard working and very cheerful people without whom the show simply wouldn't happen. So here's a little taste of life on tour from Assistant Stage Manager Alice McKay.
What is a typical show day like for you?
We get up around 7 am and have breakfast at 8 am. We have to be at the venue for 9 am and from then until 11, we set up the truss that the lights hang on, we put the set floor together, put the walls up and rig all the lights.
Then we have a 15 minute break and from 11:15 am – 1 pm, we put all the cabling out. All the cabling has been loomed together so that we don't have hundreds of individual pieces of cable. It's all one massive loom so it's easier to rig and take apart at the end of the night.
We also build the window and door trucks, hang the curtains and the huge white screen at the back goes up. We light the screen so that there's more depth to the background.
After lunch, we focus the lights and check all the marks on the floor for the various pieces of set, like the counter and the chaise long. We set up all the props in the wings, and while we do that, Cat (our wardrobe mistress) is sorting out the costumes – washing and ironing things, doing any mending that's needed. So everyone is busy!
We do exactly the same thing every time and it took us a lot longer at the beginning of the run, but now that we all know our roles it all goes pretty smoothly.
Once that's done, what do you do during the show?
I'm the stage right ASM (Assistant Stage Manager) in costume, and Christos is stage left. Just before the show begins, we sweep and mop the stage and do a shout check.
We have a list of absolutely everything that's needed in the show and where it's all supposed to be. Every single prop is listed with it's starting position and we go together to check that each one is in the right place.
I have a musical score with everyone's entrances and exits in it as well as a list of who takes which props on and off and when, so I oversee the singers and make sure they have the props they need and cue them onto stage during the show.
Because I'm in costume and on stage, I have a lot of cues for scene changes – I'm bringing on props and taking things off stage and moving a lot of furniture and scenery around. Basically, my job is to make sure that the only thing the performers need to think about is going on and singing!
Once the show's over, that's not the end of your job is it?
No! As soon as the show finishes, I get out of costume, change back into black clothes and steel boots and we start taking the set down straight away. Everything I've already told you about happens again but in reverse!
We have to take everything out that night, so we usually finish around 1 am. Then it's back to the hotel, get some sleep and on the road the next day, ready to set up the next performance.
So it's all go! Are there any particular challenges to taking a show on tour?
Yes – I've never been to most of these venues before. We bring absolutely everything we need with us – we could set the show up in a ditch as long as we had a power source!
But all the venues are different shapes and sizes. In today's venue for example, we needed to lift things from the floor onto the stage, whereas in some venues, the get-in door opens straight onto the stage. Lifting the entire set like that takes a lot longer.
So your job is very physical – do you need to be quite strong?
At the very beginning, we all had sweat pouring off us all the time! But now that we've done it so many times we've adjusted and it feels easier. We know how Robbie (the technical stage manager) likes things to be done, so we've got a good routine going now and I think I might even have got fitter! Although when you're on tour, you end up eating a lot of rubbish because you're not at home cooking, so that probably cancels out all the physical exercise!
I hope that gives you some idea of the hard work that goes in behind the scenes of each show!
It's amazing to realise what it takes to get the set up and running and ensure the show goes smoothly. Even when something goes horribly wrong, we can always trust that help is at hand.
Just this evening, we had a hiccup when the dress that I'm supposed to take off during the opening scene of Act 2 wouldn't unzip. Emma (Dorabella) tried valiantly (and subtly!) to get it undone, but I was completely stuck in it and had to finish the scene without taking it off. I knew that I had a very quick change coming up and didn't think I'd be able to get it off in time.
Luckily Marian, our Deputy Stage Manager, spotted that we were having trouble straight away and radioed Cat in wardrobe. She and Robbie sprinted over to the stage right wing, armed with a pair of scissors and managed to get me out of the dress and into the new one just in time to make my next entrance. You never know what drama is happening in the wings while you're watching the drama onstage!
Once again, Thank you to all our lovely audiences, this week in Musselburgh, St Andrews, Greenock and Oban.  And we're looking forward to the final four shows in Ullapool, Stornaway, Plockton and Linlithgow. See you there!