Scottish Premiere for The Curious Incident…
---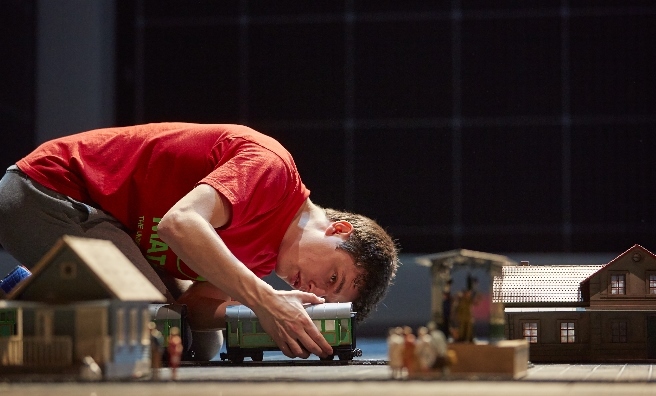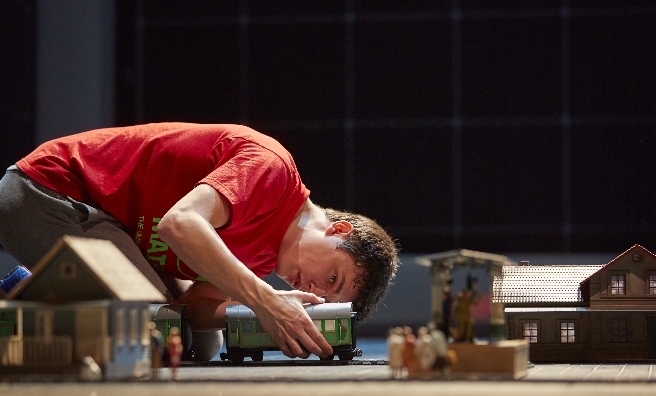 Joshua Jenkins (Christopher) in the Curious Incident of the Dog in the Night Time. Photo by Brinkhoff M + Agenberg
The National Theatre's multi award-winning production of The Curious Incident of the Dog in the Night-Time, adapted from Mark Haddon's best-selling book, makes its Scottish debut at the Festival Theatre in Edinburgh from 28 April – 9 May.
St Andrews-born set and costume designer Bunny Christie and Aberdeen-born video designer Finn Ross have created the extraordinary set and video designs for the production, for which they received an Olivier Award. 'I'm very proud of Curious Incident," said Bunny. "It's a wonderful story that people, of all ages, love and it's great to be taking the show to Scotland."
'It's a joy to be able to take Curious Incident home'
Finn Ross added: 'It's a joy to be able to take Curious Incident home and for friends and family to come along and see the show."
The show tells the story of 15-year-old Christopher Boone, who is standing beside Mrs Shears' dead dog, Wellington, which has been speared with a garden fork. It is seven minutes after midnight and Christopher is under suspicion but he records each fact in a book he is writing to solve the mystery of who murdered Wellington.
'A frightening journey that upturns his world'
Christopher has an extraordinary brain, and is exceptional at maths, while ill-equipped to interpret everyday life. He has never ventured alone beyond the end of his road, he detests being touched and distrusts strangers. But his detective work takes him on a frightening journey that upturns his world.
Playwright Simon Stephens adapted Haddon's novel for the stage. "I knew two things in adapting the play," he said. "I knew that the key to it was the relationship between Christopher and his teacher. Although it's not that central in the novel, what struck me was that everybody in life has a favourite teacher – even people who hated school or found school a miserable experience, had one teacher who they thought got them in a way that other teachers didn't.
"I knew that if I could get that relationship right, then we could create an evening in the theatre that people could recognize themselves in.
'All I ever wanted to do was to make Mark Haddon happy. He came to see rehearsals and the previews and the show at the National and in the West End and Broadway and he fell back in love with Curious Incident all over again."
'I was convinced that it couldn't be adapted' for film or stage'
Author Mark Haddon added: 'When I wrote Curious Incident, I was absolutely convinced that it couldn't be adapted for film or stage. We're stuck inside Christopher's head from cover to cover. We see the world the way he sees the world. And there's the problem. I simply couldn't imagine how Christopher's story could be told with any integrity in this way. Simon's genius was to recognize that I was completely and utterly wrong."
---
Other Scottish Dates
The Kings, Glasgow (18 – 22 August) and His Majesty's Theatre, Aberdeen (1 – 5 September).