Search Begins to Find Scotland's Top Community Meadows
---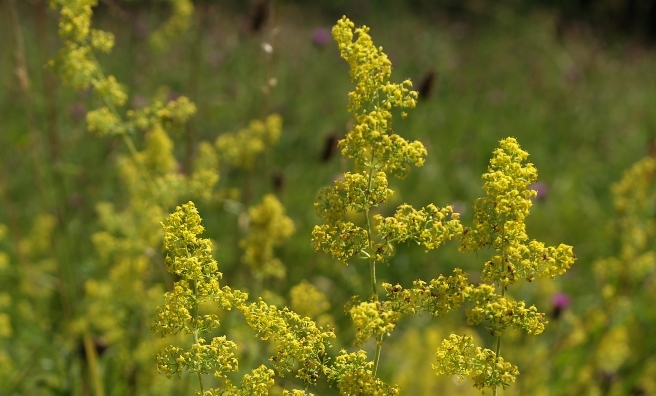 Ladies Bedstraw, a meadow-loving wild flower. Photo by Andre Gagg, courtesy of Plantlife
Do you live near, walk through or drive by a beautiful meadow scattered with wild flowers? If so, let Plantlife know as they're looking for Scotland's top community meadows.
Bursting with colour, seductive scents, the buzz of insects and alive with animals – a Scottish wildflower meadow is a jewel in nature's crown that puts on a spectacular show in summer.
Eyebright, devil's-bit scabious and lesser butterfly orchid
However, since the 1980's Scotland has lost nearly 70% of lowland meadows and grasslands that were once rich in native wildflowers such as eyebright, devil's-bit scabious and lesser butterfly orchid, while every year more and more flower–rich grasslands are lost through neglect, change of land use or development.
To reverse this loss, the search is on to find Scotland's most successful 'Meadow Makers'. As part of the Save Our Magnificent Meadows project, Plantlife and its partners want to celebrate the work of the unsung heroes in Scottish communities and schools who are setting a fantastic example of how to protect our meadow heritage and inspire others to follow suit.
'These treasures can still be found'
"Flower-rich grasslands in Scotland have always been rare," said Deborah Long, Head of Plantlife Scotland. "But if you know where to look, high on our mountains or in the machair of the west coast, these treasures can still be found.
"We want to showcase the work of those in our local communities, who are helping to conserve the remaining ones, and provide inspiration to the rest of us of the amazing flower rich history we have in Scotland. They could be working in small fields or on mountain tops. They might be encouraging wild flowers in school grounds or in village centres."
Entries for 'Meadow Makers' are welcome from now until July 31, with the winners announced in September 2016. For more information and details on how to enter, click here.
---
Save Our Meadows
Save Our Magnificent Meadows, the UK's largest partnership project, was launched in 2014 and aims to transform the fortunes of our vanishing wildflower meadows, grasslands and wildlife.
Led by Plantlife, the partnership of 11 organisations, including Scottish Wildlife Trust and RSPB, is working to restore 6,000 hectares of wildflower meadows and grasslands, primarily funded by the Heritage Lottery Fund.