A-Z of Secret Inverness-shire: E
---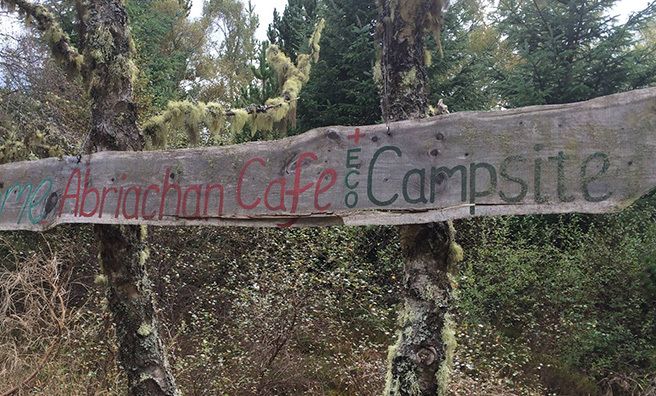 Eco Café
If you like your cuppa with a side order of quirky then you're going to love Abriachan Eco Café and Campsite.
Tucked away high in the hills above Loch Ness on the Great Glen way, this hidden gem is off the grid and definitely off the wall. Building up quite a reputation with walkers and cyclists, the café offers a warm welcome and is always open – no matter the time or the weather.
What they have on offer depends on the day, and on how well their generator is working, but they do a mean hot chocolate and the best beans on toast this side of Ben Nevis!
Eating is done outside, under a shelter if the weather is bad. Be prepared to share your shortbread with the free range chickens and pigs roaming around the place. The quirkiness extends to the toilets which in true eco style are composting. They are amazingly fresh and clean though and filled with lavender and rosemary plants.
You can even stop if you're in the area in your car, though it  means hiking a couple of kilometres from the nearest road and following the colourful, hand-painted signs. It really is worth it!
Abriachan Eco Cafe and Campsite, Wester Laide, IV3 8LB.
---
Next up: