Shetland's Otter Orphans Take To The Water!
---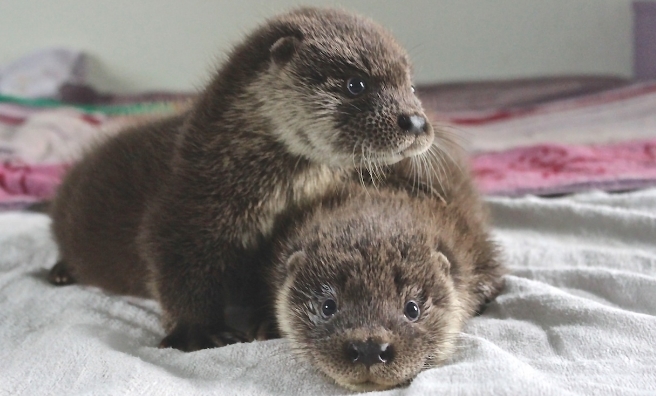 Joey and Thea
Two orphaned baby otters who were taken to Hillswick Wildlife Sanctuary in Shetland when they were only days old are now learning the skills they need to survive in the wild – including swimming!
Thea and her brother Joey are thought to have lost their mum when she was hit by a car and when the orphans were found, they were in a bad way. "Joey was handed in to our wildlife Sanctuary one Sunday last September," explained Jan Bevington from Hillswick Wildlife Sanctuary.
"Joey was tiny and suffering from hypothermia so we placed him on a hot water bottle and he responded well.
"The next day, his sister arrived – she'd been found by pupils at the local school.
"We let them both out of their boxes and it was like long lost friends meeting up! It was incredible. They knew each other instantly."
'We were on call all the time'
Jan and her husband Pete bottle fed the otters for about 12 weeks. "That was the hard bit as we were on call all the time," said Jan. "Then we weaned them onto fish – which was very kindly donated by the local fisherman whose family found Joey."
Jan explains that Hillswick's policy is to return animals and birds to the wild whenever possible. Once strong enough to live outside, the otters were given a new home in a shed for eight weeks and then they moved into the outdoor enclosure where they're currently residing.
'Thea and Joey needed large tin baths or tanks to practise their water aerobics'
However, the outdoor enclosure was missing one vital element for two young otters – a swimming pool. "Thea and Joey needed large tin baths or tanks to practise their water aerobics," said Jan.
"We managed to source two tin baths Brettell Brothers in Stourbridge – Europe's only manufacturers of tin baths – which were ideal but to get the baths to Lerwick from the mainland was going to cost £185 and every penny the sanctuary has goes on feeding and caring for our animals."
However, once ferry company Streamline heard about the sanctuary's predicament, they offered to deliver them free of charge. "This was a wonderful offer," said Jan, who reveals that there was a very special free gift with their two tin baths – another four free baths!
'Private swimming pools for another four otters'
"Brettell Brothers accidentally loaded six baths onto the Streamline truck rather than the two we'd ordered and paid for – and as the baths were already in Aberdeen by the time they realised their mistake, they very kindly donated them to the sanctuary.
"So now we have six baths for the price of two with free delivery – and private swimming pools for another four otters!"
For more tales of Scotland's wildlife, pick up a copy of the latest issue of The Scots Magazine. In the shops now – or order online by clicking here.