Your Shop Local Christmas Guide!
---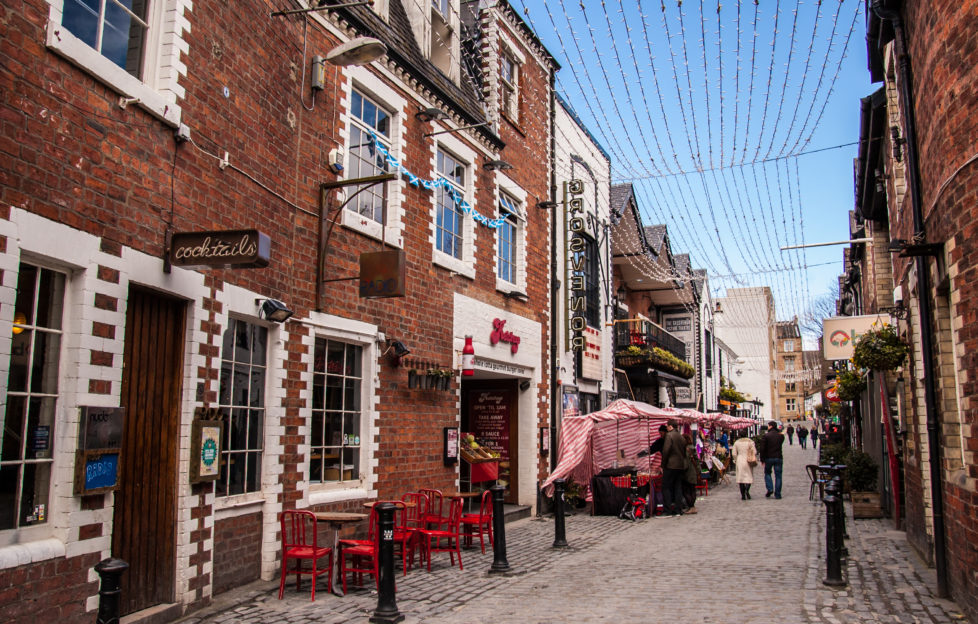 Ashton Lane, Glasgow. Credit: Shutterstock.
Things are tough for independent businesses across the country right now, so we've pulled together some of our favourites to help you shop local this Christmas
Lockdown restrictions due to the coronavirus pandemic have been tough on many local businesses. Therefore, making the effort to shop local has never been more important.
This year there has been a lot of focus on putting our money back into our own economy through staycations and shopping local.
So why not avoid the crowds this Christmas and support local business while you still can!
Let us inspire you with this guide to some of the best little independent shops around Scotland that you can support with a spot of Christmas shopping either online or in person.
We will try and keep this updated as much as we can, but please do check business websites before visiting anywhere. This list is intended for those living in these areas, so please do not travel to anywhere that restrictions prohibit you from doing so.
---
Glasgow
The Nancy Smillie Shop
One of Scotland's hidden jems. Selling a fantastic array of lifestyle, homeware, furniture, ceramics, art, gifts, cards, clothing & jewellery. Shop online or in-store.
Braw Wee Emporium
Braw Wee Emporium is an online Scottish gift and music shop stocking a carefully curated selection of greeting cards, gifts and homewares. In the heart of the Barras Market, everything in the emporium is created by Scottish producers, artists, and designers. Shop online or in-store.
The Scottish Design Centre
Exciting stores in Edinburgh and Glasgow which sell an extraordinary range of beautiful art and design
products all made in Scotland. Every penny you spend goes directly to the hard-working local artists, designers and creators. Shop online or in-store.
Banilla box
Banilla Box started in the summer of 2020 by a young Glasgow couple, James & Gemma with the aim to create something that helped Scotland back on its feet by teaming up with some of the best local businesses. They do so by including various suppliers in their boxes delivered straight to your doorstep. They also make their own range of lovely scented candles. Shop online.
Sugarsnap 
Sugarsnap is an Artisan Chocolate and Confectionery Company started by chocolatier, Annette Smith. All products are handcrafted using high-quality ingredients with no added unnecessary sugar. They also often use local products to infuse in their ganaches and confectionery. Shop online.
---
Edinburgh
Wee Blue Coo Prints
Wee Blue Coo work with a variety of artists offering a huge range of different styles which are all printed locally in Edinburgh. Shop online.
The Harvest Garden
Family run since 1983 The Harvest Garden with expertly trained staff create custom plant, floral, balloon, champagne & chocolate gifts turning every occasion into something special.
Ivy & Co Candles
This is a Scottish brand specialising in a unique range of luxurious, hand-poured soy wax candles, reed diffusers and aromatherapy room sprays.
Holyrood Distillery
Gin
Available in the following flavours: Pink Gin, Spiced Gin, Auld Tam, and Dry Gin. These are all available in 50cl bottles for £25. The gins are also available as gift packs with complementary tonics, liqueurs, handmade liqueur chocolates and tasting glasses or as a gift pack containing 10cl bottles of all four gins.
Whisky
Holyrood Spirit Merchants whisky range in the following flavour profiles: Spicy, Smoky, Sweet, and Fruity. All available in 70cl bottles for £39.50.
The whiskies are available as gift packs with handmade whisky barrel chocolates and tasting glasses or as a gift pack containing 10cl bottles of all four whiskies.
Liqueurs
Available in the following flavours: Rhubarb & Black Pepper, Blood Orange & Fennel, Apricot & Ginger, Holyrood Auld Tam, and Raspberry & Lemon Gin Liqueur. These are all available in 50cl bottles for £18.50. The gin liqueurs are available as a gift pack containing 10cl bottles of all four liqueurs.
Shop online or in-store
Localburgh
This community marketplace basically covers it all as it was set up to support your favourite local Edinburgh retailers. Have a browse, there are a number of local brands on this website.
---
Dundee
Kist
This popular gift shop stocks a carefully curated selection of quirky prints, jewellery, cosmetics, homewares and more, all by Scottish artists and makers. Shop in-store.
Pine Cone Cafe
The Pinecone Cafe and gift shop is popular among Dundonians during this time of year for lovely authentic Christmas decorations and gifts. There is even a Christmas tree farm if you fancy a real Christma tree this year.
Le Freak Records
This is a very popular new and 2nd hand vinyl shop. Stocking Techno, Dance 10″ and 12″, Indie, Soul and Disco. Shop online or in-store.
The Green Larder
This popular zero waste shop works with Scottish producers and suppliers where possible to bring you quality local products. Stocking food, confectionery, beauty and skincare products, homeware and more that would make love eco-friendly gifts.
---
Stirling
Made In Stirling
What started life as a pop-up project has grown to support a collective of a hundred strong, local artists and makers. The 'Made in Stirling' store continues to evolve as new people come on board to support grass-root arts and culture in Stirlingshire. Shop online or in-store.
Europa Music
The only Independent Vinyl/ Record and CD shop in Stirling and the largest browsable Vinyl Record shop in Scotland. New and used stock going on display every day, so you never know what gems might be found.
Contempo
This gift and homeware shop stocks over 2,000 lines about 80% of which is either made in or designed by Scottish artists and artisans. Shop online or in-store.
---
Aberdeen
Aberdeen Whisky Shop
This small independent whisky retailer aims to create an amazing experience, stocking unusual, eclectic and limited spirits. Shop online or in-store.
Juniper Aberdeen
Established in 1971 by June Stewart, is an independent and family-run shop that supplies unique gifts, jewellery, homeware and furniture across Aberdeen and the UK. Shop online or in-store.
Decidedly Dogs
This small business made a conscious decision to try to bring something decidedly different to the marketplace, in terms of dog-related products, and hence the name. Both gifts for your furry friends and dog-themed gifts for the rest of your family and friends are stocked here. Shop online coming soon or in-store.
---
These are just some of our finds so far and we will updating as often as we can. Comment on our social media with any local favourites that we've missed and we'll pop them in!