Snow Fun for Scotland's Penguins & Polar Bears
---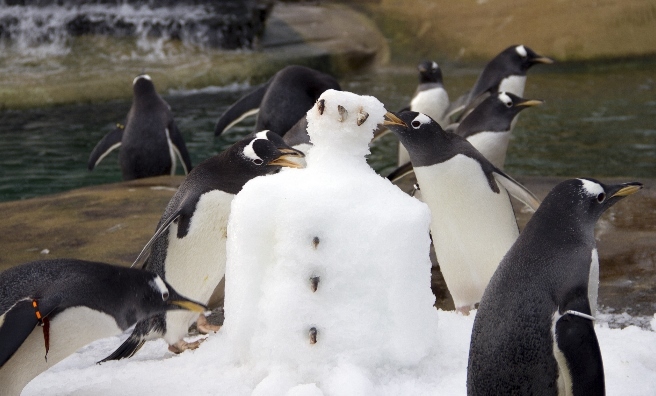 Edinburgh Zoo's gentoo penguins even have their own (slightly fishy) snowman!
The wild winter weather may be causing havoc across Scotland – but it's making some of our residents very happy!
The Penguins at Edinburgh Zoo's Penguins Rock, Europe's biggest outdoor penguin enclosure, have been having great fun in the snow – especially as their very nice keepers have been emptying buckets of crushed ice onto the mock sandy beaches as a special Christmas treat for the birds!
"Naturally inquisitive, the penguins have  fun in the snow – scooping up the ice in their beaks, stealing blocks of it from the display and maybe even slipping and sliding through the crushed ice," said Dawn Nicoll, Senior Keeper of Penguins at Edinburgh Zoo.
Meanwhile, at the Highland Wildlife Park at Kingussie, polar bears Walker and Arktos have been tucking into special icy cakes at Highland Wildlife Park at their joint birthday party.
The perfect gift
 Frozen birthday cakes were created by keepers and filled with some of the boys' favourite foods, including sardines, carrots, apples and nuts – the perfect gift for two of the world's largest land carnivores!
The ice cakes were attached to ropes and tied to trees within their almost six acre enclosure, meaning the mischievous bears had lots of fun pulling them down before demonstrating some powerful pouncing onto the cakes.
"The boys have been firm friends since Arktos arrived at the Park in April 2012," said Una Richardson, Head Carnivore Keeper for the Highland Wildlife Park.
"It's easy to see why they are two of our visitors' favourite animals. Visitors can watch as the boys tumble and play together in their large pool then, at the daily polar bear talk, they can see the bears up close when they are given their afternoon snack. "