Spotlight: The Little Art School
---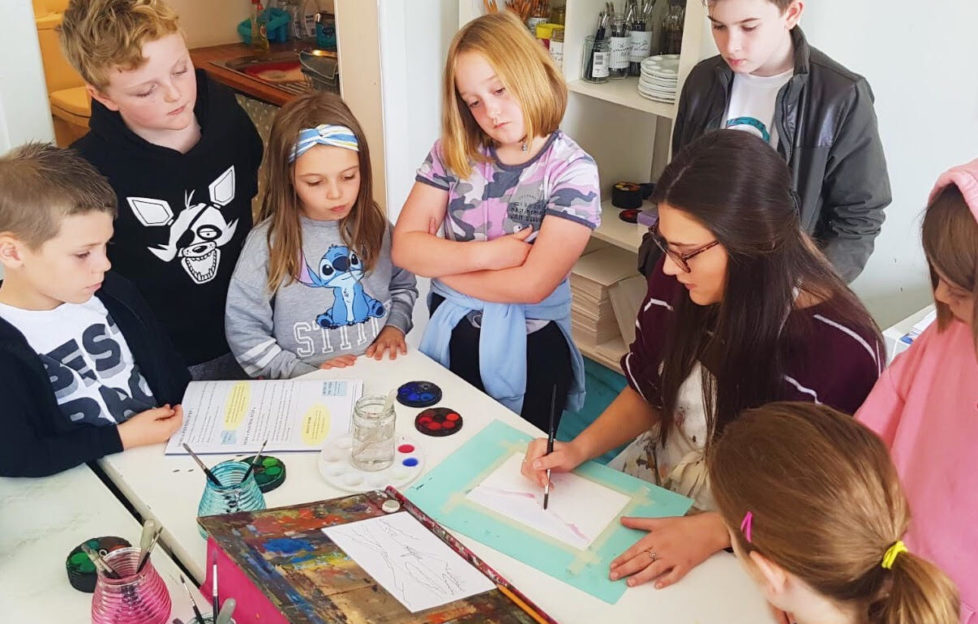 Little Art School teacher, Eliz teaching children in Troon, Ayrshire.
We chat to Joanne Robinson, co-founder of the Little Art School – the online art class experience that has been keeping kids occupied during lockdown.
Are you juggling working from home and keeping the kids occupied over the summer holidays? We have the perfect solution.
The Little Art School, co-founded by Joanne Robinson and Melissa Haddow, now offers over 136 free art classes over on their YouTube Channel (CLICK HERE). Although the school was originally set up as a studio experience within Ayrshire and Glasgow, lockdown measures due to the COVID-19 pandemic forced the business to reinvent itself online.
During the initial months of lockdown, the Little Art School hosted live Daily Draw classes every weekday. These were wildly successful and have put the Little Art School on the big map, with a newfound international audience.
What inspired you start the Little Art School?
Melissa and I have six children between us, and their interests vary. If they liked sport, drama, music or dance, we could find a huge range of clubs available. But for the child who wanted to learn to draw and paint in an encouraging environment with a structured, progressive course, there was nothing.
That's why we created the Little Art School.
We have spent years developing our highly structured drawing and painting course. This course takes a child from ages 5 to 18 and teaches them the skills needed to be able to draw and paint.
We also realised very early on that our lessons, our methodology and the way we have recruited our team, all led to raising children's self-esteem. And this is at the very heart of our business.
Why is it so important to include art in children's education? 
We feel so strongly at the Little Art School that art, taught well, can help every child. Our students develop motor skills, hand-eye coordination, creative development, concentration and self-expression.
Our charity, the Little Art School Trust SCIO, has been teaching our art course to children in schools located in areas of high socio-economic deprivation. Teachers have reported back on improvements in so many other areas of learning, as well as a huge leap in self-confidence.
In the seven years since we started the Little Art School we have witnessed first hand the inarguable value of teaching children to draw and paint. Our graduates have left us with a skill that will enhance their whole lives.
The Daily Draws must have been such a lifesaver for parents trying to home-school during lockdown? 
We set up the Daily Draw when we realised that we couldn't run our classes in our studios during lockdown. We provided two free art classes every weekday (a Junior and a Senior) on our Little Art School YouTube channel.
The reaction from parents was incredible. One mum wrote to us and said that she had burst into tears when she read our email about the Daily Draw. She knew that it would be a real highlight of the homeschooling day for all of her children.
What amazed us was how huge the reach has been!
Although we designed it for our Little Art School students, they have shared it with friends across the UK and all over the world. We have had Daily Drawers in India, the USA, America and Israel as well as right across Europe.
What plans does the Little Art School have for the summer holiday club?
We now have 136 free art classes available on our YouTube Channel and they will be there all summer for children to access.
Usually we run Holiday Clubs throughout the summer, but we have been unable to do this with current restrictions. Therefore, we're putting out a Holiday Club once a week from our archives.
The Weekly Draws will be free to anyone on our YouTube channel. If you subscribe to the Little Art School on YouTube, you will get a notification once a week to say that the new class is live.
We have also put together a pack of art materials for anyone who wants to do the clubs, these are available on our online shop (CLICK HERE)
What will the Little Art School look like post-lockdown? 
We're making plans to restart our studio classes in September. Although restrictions are changing all the time, the team are prepared for different outcomes.
The lockdown has actually opened huge new opportunities for us, too.
So many adults who thought they couldn't draw or paint have loved doing the Daily Draw with children and grandchildren. Therefore, we have spent two months working on a very special new project. We have designed and created an Online version of our Drawing and Painting Course for adults.
Our methods have shown that we can teach anyone to draw and paint. This new online course means we can reach people who don't have access to our studios and people who can't commit to a regular weekly class.
We launch this course on August 1st and people who are interested can email us at hello@littleartschool to find out more.
For more information, art supplies and courses visit the Little Art School website (CLICK HERE)
Read more community stories >>