Spotlight: Rachel E Millar Signwriting
---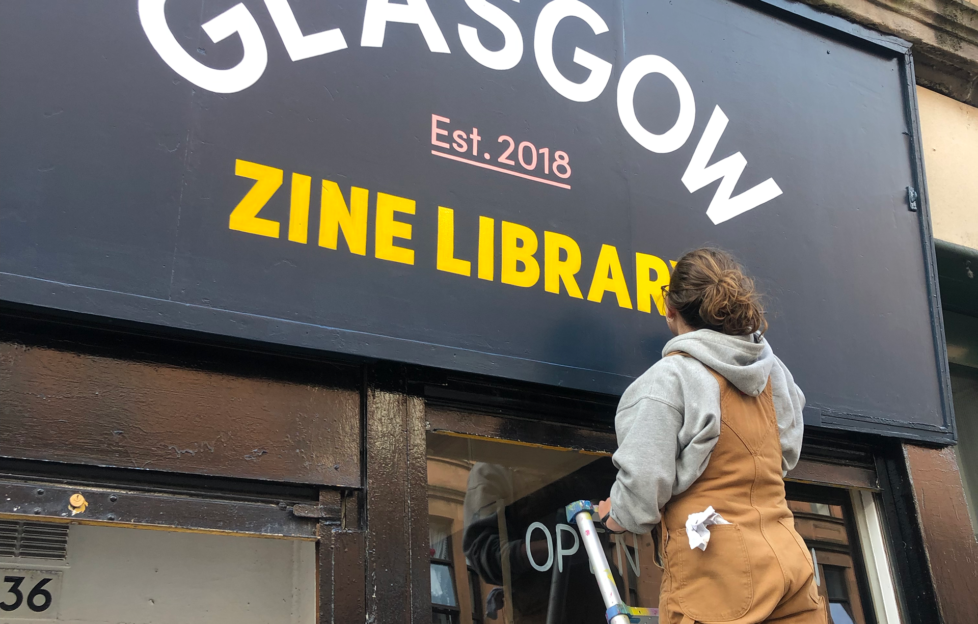 Rachel working on a new sign for Glasgow Zine Library.
We chat with popular Glasgow-based signwriter, gilder, and hand lettering artist, Rachel E Millar…
The resurgence of signwriting and professional hand lettering has been sweeping the streets of Scottish cities. As new independent businesses open and the shop local approach takes hold, is it any surprise everyone wants their own signature look in order to stand out.
Discover a behind-the-scenes look at some of the most eye-catching lettering that is popping up in and around Glasgow, courtesy of Rachel E Millar. This popular signwriter, gilder, and hand lettering artist, works primarily in Glasgow and has contributed a number of new shop faces to the streets.
How many of Rachel's signs have you spotted around Glasgow city?
We find out more about the work that goes into each project, some of her favourite Scottish designers and what Rachel's plans are for future workshops.
Why do you think signwriting is making such a comeback on shopfronts across Scotland? 
Over the last 5-10 years, there's been a resurgence of people interested in craft and makers. I think this is due to the rise in popularity of craft beer and other slow processes of making and a rejection of the overwhelming online world. Previously, these trades were very niche. We'd work quietly and unnoticed by the general public, so it was difficult to find those with the knowledge or receive tuition. Now, you can see thousands of signwriters' work on Instagram, and anyone with a bit of natural talent can pick up the craft thanks to the sheer volume of online learning available. I also think business owners have realised that cheap vinyl just doesn't last. If you pay for something to be painted, it will stand the test of time… and our glorious Scottish weather!
How did you get into hand lettering and signwriting?
I was studying graphic design at Edinburgh College of Art and did a semester abroad at Massachusetts College of Art and Design. There, I chose to do a class in 'Hand Lettering for Design' that was taught by Professor Emeritus John Cataldo, a brilliantly talented 90-year-old calligrapher. I also took a letterpress class with the late Professor Al Gowan, who was a legend in the Boston design circles. When I got back and I discovered that signwriting was still a viable career in the UK, I got stuck in.
What really drew me to signwriting was that I could create the paintings by hand and I wasn't sitting behind my laptop all day. When I graduated, I moved back to Glasgow and I got in touch with Ciaran of Glöbel Signs. I started painting with him and doing small jobs around town. I eventually had the confidence to find my own studio and started my own business in July 2017. I've been self-employed since then and have loved every second!
How would you describe your lettering style?
I tend to describe my own work as a cross between design, art and craft, which fuses traditional techniques with contemporary typography. I love experimenting with different illusions with my typographic style and pairing it with bold, bright colour. I definitely found the best process that works for me from many, many hours of practice and trial and error. I'm happy now that many of my clients come to me to ask for my particular style and colour palette – it makes my job so much more enjoyable!
Are there any local signwriters or designers who inspire your work?
There are so many great signwriters working in Scotland! I take huge inspiration from my old mentor Ciaran Glöbel – his use of shading and 3D elements really spakred my love of playing with perspective. He collaborates with Conzo Throb quite often and their work is humorous and clever. Across the country, I work with Thomas Paints and Journeyman Signs quite often and they're both excellent painters. There's a really great community within signwriting connected through Instagram, where everyone lifts each other up and swaps techniques and tips. It's a great trade to be a part of.
Unfortunately, your V&A signwriting class was postponed this year. Are you planning any new workshops later in the year?
I hope to get back into teaching workshops later in the year or next year. Allowing participants to see the brush techniques and watch closely as I paint would be tricky with social distancing, so I think it will be a while yet. I really enjoy teaching workshops because every person gets a lot out of it. Most participants can achieve so much in a short time when they're focused and interested in the craft, so it's very rewarding.
I hope to work towards a solo show for 2021, where I can really push my independent practice and immerse myself in many new processes and techniques. Signwriting is a vast craft and I'm positive that I'll be learning and painting for many decades to come!
For more information about Rachel's work, check out her website

 (CLICK HERE)
Read more community and spotlight stories >>