Edinburgh Hospice Launches Tribute Funds
---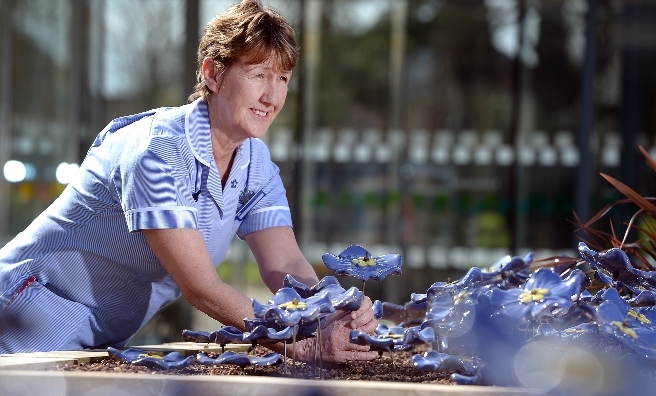 Auxiliary nurse Maureen McCaskey 'plants' a forget-me-not. Photo by Neil Hanna
Edinburgh Hospice Columba's has launched a new way for people to raise money in memory of loved ones who died at the hospice – Tribute Funds.
To accompany the Tribute Funds, St Columba's Hospice has installed 800 ceramic forget-me-not flowers in to its courtyard garden where patients, families, staff, volunteers and visitors can view and admire the garden. The Tribute Garden is a poignant and powerful display that will remain in place for many years to come.
A delicate copper leaf will be added to the flower
Each Tribute Fund will be represented by a ceramic flower in the Tribute Garden, and when the first donation is made to the Tribute Fund, a delicate copper leaf will be added to the flower with an engraved message.
The ceramic flowers have been specially handcrafted by Johnson's Tiles, who also produced the Tower of London poppy display. Each flower has been handmade, and carefully glazed with three layers of paint to ensure the flowers can brave Edinburgh's weather.
A special and personal way to support the hospice
"Tribute Funds are a special and personal way for people to support the work of the hospice," said Jackie Husband, chief executive of St Columba's Hospice.
"By setting up a Tribute Fund, our supporters can ensure the high standards of care their loved one received will be available for other families and generations to come."
For more information, click here.

---
St Columba's Hospice
Founded in 1977, St Columba's Hospice in Trinity, Edinburgh, provides specialist palliative care for patients in Edinburgh and the Lothians.
The Hospice includes a day hospice, in-patient unit and a community nursing team,
Free, specialist clinical care and emotional, spiritual and practical support is given to over 1,300 people and their families each year.
St Columba's Hospice is a registered charity and needs £8million a year to provide its services.