Susan Boyle To Join Elaine Paige at Glamis Prom!
---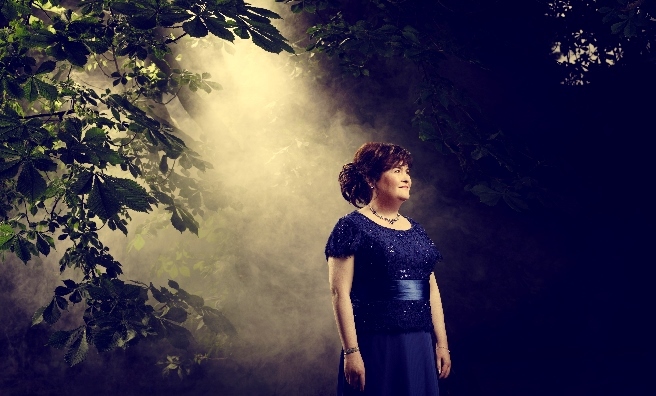 Susan Boyle, one of the stars of this year's star-studded Glamis Prom
Scotland's very own singing sensation, Susan Boyle, is set to perform alongside one of her idols at Glamis Prom 2015 on Saturday 18th July.
The West Lothian born superstar has been invited by musical theatre legend Elaine Paige to be her very special guest at the summer spectacular taking place at Glamis Castle, home to the Earl and Countess of Strathmore.
"We first sang a duet on Susan's TV show over five years ago and I've been following her success ever since," said Elaine, who will be backed by the Royal Philharmonic Orchestra. "When I was invited to perform at Glamis Prom this year I thought what better place to sing together again than in Scotland … Susan's home."
'I am thrilled to be performing in such a prestigious show'
Susan revealed that she is excited to be adding this glitzy date to her performance diary. "I am thrilled to be performing in such a prestigious show and to be duetting with Elaine Paige again. It's brilliant that the Glamis Proms have returned and I can be a part of such an important occasion"
The Glamis Prom will also feature a homecoming performance by Norman Bowman, who has played almost every leading song and dance man in London's West End and appeared in Kenneth Branagh's acclaimed 2014 Broadway production of Macbeth, as well as playing one of the main characters in Henry V, alongside Jude Law.
Norman is from Arbroath, less than 20 miles from Glamis, and revealed to The Scots Magazine that he can't wait to take to the Prom's stage, which will be set against the romantic backdrop of Glamis Castle.
"I'm going to have a ball'
"It's fantastic to be planning a performance in the county where I was born and brought up," said Norman. "The Glamis Prom is the ideal opportunity for me to come home and sing in front of the always wonderful home crowd – I'm going to have a ball!"
As well as experiencing a fabulous night of music, members of the audience can purchase gazebo pitches so they can enjoy their own picnics and, to add extra glitz and glamour to this star-studded evening, are encouraged to attend in all their finery. I'll be there in my poshest frock and highest heels and, as a fellow Red Lichtie, I'll be cheering extra loud when Norman steps onto the stage!
For information and tickets, click here.
For more places to go and things to do across Scotland, pick up a copy of this month's Scots Magazine. In the shops now, subscribe by clicking here or download your own online issue by clicking here.
---
Elaine Paige
Elaine's starred in many smash hit West End & Broadway musicals, including Hair, Jesus Christ Superstar, Evita, Cats, Chess, Anything Goes, Sunset Boulevard, The King & I, Sweeney Todd and, most recently, Follies.
In 1995, Elaine  was awarded an OBE for services to Musical Theatre.
Elaine Paige On Sunday on BBC Radio 2 regularly attracts over 2 million listeners.