Take A Hike… To Ben Vrackie
---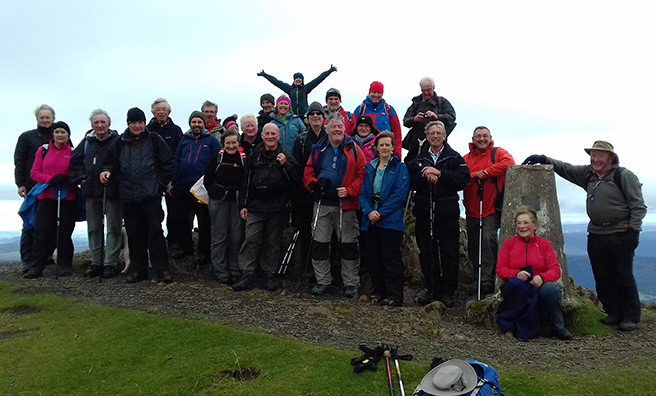 Our autumn hike took the Scots Mag Hiking Club up into the hills above Pitlochry
Ben Vrackie is one of Scotland's most recognisable mountains – to those who regularly use the A9, that is.
It looms over Pitlochry and is one of the most easily accessible Corbetts. It was also hike number 18 in the three-year existence of the magazine's Take A Hike climbing club.
35 hardy hikers, a nice mix of magazine staff, readers, contributors and friends, met last Saturday at the car park just north of Moulin. The sky might have been grey but the mood was bright with everyone looking forward to meeting old friends and enjoying some hillside camaraderie.
It's usually a fairly easy drag up to Loch a' Choire but on Saturday there was a bit of a head wind to make the going tougher. But Scots Mag hikers are a hardy bunch so we made good time, stopping off behind some boulders to shelter from the wind and have a drink and a bite to eat.
Then came the tough part, the final ascent of the hill. Luckily, the path is well maintained by Perth & Kinross Council, with steps almost all the way. They're easier going up than down, though, I have to admit!
In the lee of the wind, progress was pretty swift and we made the summit only two-and-a-half hours from kick-off. The panoramic views were superb – Beinn a Ghlo to the north-east and to the south-east Fife and the Lomonds. To the west the views stretched across Schiehallion, Loch Tummel and Loch Rannoch to Glencoe in the distance. Even the Sidlaws were prominent, with the more eagle-eyed among us spotting the oil rigs at Dundee's port.
Many pics were taken and some food and drink was consumed before we headed back down the path. The car park was attained with the minimum of fuss – and just when the rain started. Good timing!
We reconvened at the Moulin Hotel for further refreshments and a blether, underlining the point that you can't beat a pint of real ale after five or so hours on the hills!
Thank you to everyone who joined us and sent in photos – you can see the collection above and on the right.
Next hike, November 18. Venue – The Hermitage. To join us email gfraser@dcthomson.co.uk for details.