Take A Hike… To Glen Banvie
---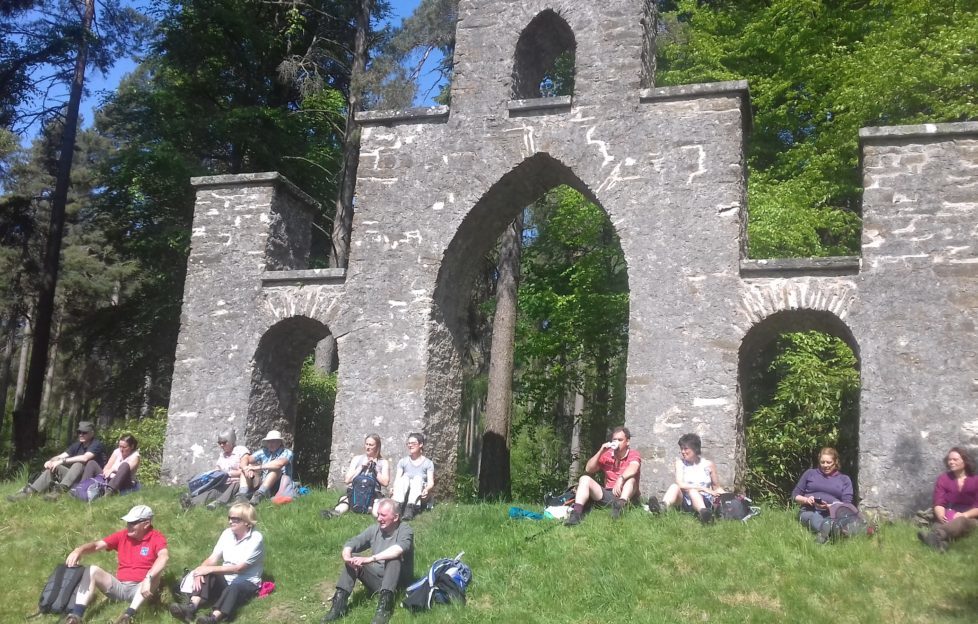 Under clear blue skies our hiking club spent a day in the hills above Blair Atholl
Phew! What a scorcher! Hot sun and high temperatures greeted the Scots Magazine hikers as they prepared to set off on their latest daunder.
The route was a straightforward round trip from Old Blair via Glen Banvie and the Falls of Bruar. It was anything from Factor 45 upwards for the 32 hikers, not to mention the odd dab of midge repellent. There's not been much sign so far of these little devils, but you can't be too careful.
We took in one detour, for more than one reason.
Firstly, The Whim is worth a visit because of its marvellous views back over Blair Castle. It's a grade 2 listed building, a façade pierced with arches, and it dates from 1761. It was built by the then laird of Atholl as, funnily enough, a whim.
A Celebratory Coffee Stop
The other reason was to unload Katrina's rucksack of cake, brought along to celebrate the first wedding anniversary of two of our hikers, Alex and Wendy. It was a double celebration as in addition this was our 21st hike!
The path then hit the open countryside as we entered Glen Banvie itself, and a nice breeze cooled us as we headed through the glen before turning south for the Falls of Bruar. They are probably best seen in the spring when they are double the size due to melted snow, but they are still a wonderful sight in the summer.
Our walk back was a hot one and as we passed a lily pond on the outskirts of Bair Castle, the thought of a nice cool dook wasn't far from most minds. The car park was eventually reached, however, and any lingering thirsts were quenched in the Athol Arms Hotel.
Although we don't charge for these guided hikes, donations are politely requested for charity. This time we raised £200 for Maggie's Centres, so thank you to every hiker who came along and donated!