Take A Hike… to Ben Lomond
---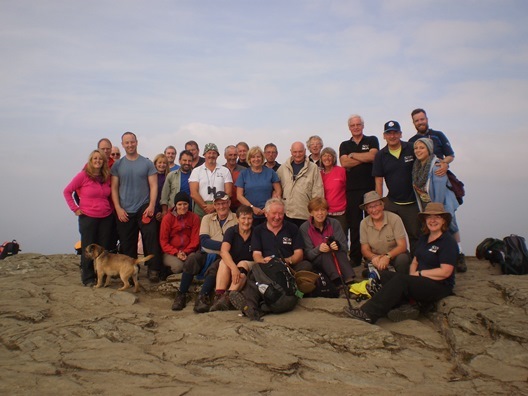 At the top!
The fourth Scots Magazine hike took place on September 13 on Ben Lomond, amidst glorious sunshine.
There were 31 walkers on our hike of 2014, of varying ages and levels of fitness but with one thing in common – The Scots Magazine!
The journey to Loch Lomond had been a foggy one and I was worried that visibility during the 974 metre-climb would be non-existent. However, fortune favours the brave, the sun shines on the righteous etc etc and we were treated to a hot and sunny day's climbing with good, albeit hazy, visibility.
Such was the heat and exertion, several stops were made on the way up and down to fortify ourselves, providing us with the perfect excuse to lounge about in the sun and chat. You really have to make the most of a beautiful day on a Scottish mountain – they're in short supply!
If we were looking for exclusive use of the hill and its excellent NTS-maintained paths, we were mistaken. There was a steady stream of hikers all day long, making Ben Lomond easily the most heavily-populated Munro I've ever been on, surpassing even that of Ben Nevis. However, it was an excellent hike in very good company, with most of the walkers having participated in all four Scots Magazine hikes.
After we made it back down to the car park where our hike commenced, more thirst-quenching took place in the beer garden of the Rowardennan Hotel. As we relaxed and swapped tales of this hike and previous Scots Mag hikes, there seemed to be one question on everyone's lips – when is the next hike? More about that later!
PS We raised £237 for PoppyScotland as a result of the small fundraiser we included in this hike. Thanks to everyone who contributed.
---
Poppy Scotland
Although Take A Hike's not a fundraising event, as we were climbing a Munro, several people asked if they could donate to a worthy cause to commemorate the occasion. As a result, we raised £227 for Poppy Scotland – many thanks to everyone who contributed.