Take A Hike… To Crail!
---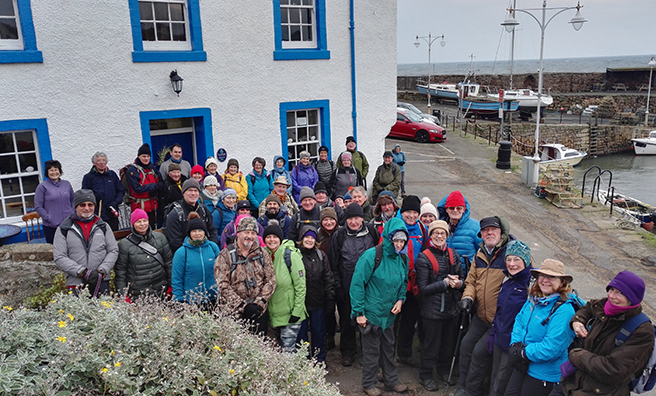 The Scots Magazine hiking club ticked off
another section of the Fife Coastal Path
with record attendance!
What was the attraction of the last Scots Magazine walk that attracted 52 hikers? Was it the very flat nature of the hike – Anstruther to Crail and back? Or was it the promise of mulled wine and apple pies in Crail at half-time? Or was it the thought of a fish supper in Anstruther at the finish of the walk?
I suspect it was the latter two, with the former adding a wee bit to convince folk that this was a hike worth doing! Whatever, it was the biggest turn-out for ages, the last over-50 total being the Kingsbarns/Crail route a couple of years ago. The event was particularly significant as it was the first time an entire family had come along on a walk. Take a bow, the Drainey family – The Scots Mag's hiking correspondent Nick, his wife Judy, daughter Anna and son Eric.
A cold south-easterly greeted us as we amassed in the car park to the east of Anstruther harbour, but with the wind more or less behind us we hit the streets of Anstruther east, Cellardyke and the Fife Coastal Path itself. Our first stop for a cup of tea, coffee etc was at The Coves, a row of natural arches and the ideal shelter on a rainy day. Thankfully it was dry, but the arches still gave us a moment's rest from the wind.
A New Year's Treat
Then it was non-stop for Crail. Our Katrina's folks have a holiday house on the harbour, so she sped ahead to ensure that the mulled wine was heated up and that the pies were nice and hot – a little New Year treat for the hikers courtesy of the Scots Mag. Both were delicious. Special thanks, however, must go to Katrina's mum and dad, Pauline and Jim, for their hospitality at Harbourside House.
Then it was simple task of retracing our steps, and we made it back to Anstruther faster than we took going the other way. I wonder why? Well, no, I don't because with over 40 fish suppers pre-ordered and awaiting collection at The Wee Chippy in Anstruther it's no wonder people stepped up a gear!
It was a delicious end to a fine day's walking. My job, I fear, from now on is to choose a hike with refreshments laid on half-way and a good chipper at the end! Thoughts on a postcard please!
The next hike will be on March 17, to Loch Brandy and Wharral. To join us, drop me an email at gfraser@dctmedia.co.uk.