Take A Hike Heads To Glen Tilt
---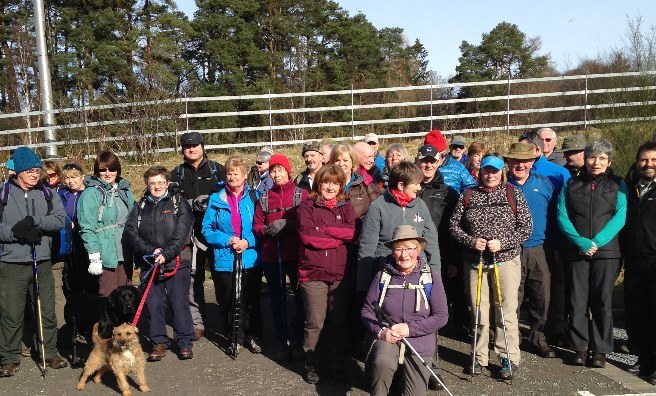 The Scots Mag's 45 Take A Hike walkers - and a few four legged friends - prepare to set off on a ten mile trek along Glen Tilt
Almost 50 Scots Mag readers, writers and contributors headed to Blair Atholl on March 21 for The Scots Magazine's fifth Take A Hike along Glen Tilt – and enjoyed a day of great walking, fabulous views, warm spring sunshine – and an eagle soaring overheard!
The hike began with a talk by Countryside Ranger Polly Freeman about Glen Tilt, which provided an insight into life in Glen Tilt when it was home to a thriving community, as well as enabling us to spot the sites of an ancient village and a hillside covered in giant ant hills as we hiked through the valley.
And as we had several of The Scots Mag's outdoor and wildlife experts with us – thank you Jim Crumley, Cameron McNeish and Nick Drainey – there was no shortage of chat about our surroundings and the animals, birds and lizards we saw en-route
The 10 mile walk followed the RiverTilt so there was no shortage of waterfalls and tumbling rapids – and by lunchtime, the sun was so hot , paddling in the shallower water was a very tempting idea. However, dipping a hand in the water revealed the river's winter chill was still very much in evidence to hiking boots stayed on!
'A ten out of ten hike'
The return leg of the hike proved just as enjoyable as the first and as we found one last burst of energy to propel us to The Atholl Arms and a refreshing drink (and delicious scones!), everyone voted Take A Hike #5 a resounding success.
"A ten out of ten hike," said Eleanor Yearwood from Alyth – and we have to agree!
Thanks to everyone who came along – we were joined by walkers from Fraserburgh, Forfar and everywhere in between! – and a very special thanks for the very generous donations to our collection for Scottish Autism. Update to follow with the amount raised.
For more details about forthcoming Take A Hike events, contact The Scots Mag's Garry Fraser at gfraser@dcthomson.co.uk. For lots of articles about Scotland's great outdoors, pick up a copy of the latest issue of The Scots Magazine. In the shops now or order online by clicking here.