Take A Hike Heads to Glenshee
---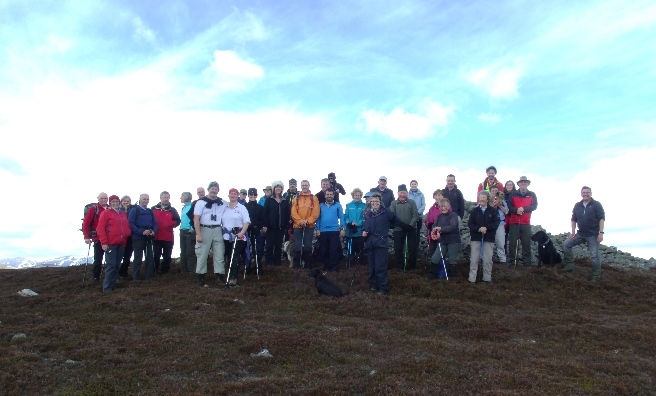 The Scots Mag team on Ben Gulabin
There was no doubt where we were heading on this Take A Hike – it was simply a case of looking up from where we'd parked our cars at the Spittal of Glenshee at the mountain towering above us.
Thankfully, the Scots Mag's Garry had carefully planned a route which took into account that only a few of us are actually mountaineers or climbers and the 33 walkers trekked a short distance along the road to a gate and the gentle path leading up towards Ben Gulabin…
Or at least it was a gentle path for the first 100 yards or so. As it wound its way round All' Charnaich, the ground below our feet grow steadily steeper but, thankfully, the mountain hares dashing across the hillside to our right proved a handy distraction!
Although it was May, there were still patches of snow on the lower reaches of Ben Gulabin – although it appeared at least one of the mountain hares hadn't checked if his winter coat was still providing him with camouflage as he sat there in full summer outfit splendour!
After much peckin' and more than a few stops to admire the view
Next – a very testing walk up a steep but direct track to the heathery plateau approaching the summit of Ben Gulabin. After much pechin' and more than a few stops to admire the view, we all reached the plateau and proved just how keen we all are by adding an extra mile onto our trek by heading left instead of right to admire the view from the rocky outcrop our cars were parked below.
Next – the final climb to the top of Ben Gulabin, where lunch was enjoyed in a sheltered spot just below the 453 metre summit (making it officially a Corbett).
The initial plan had been to return by the same path but the weather was looking promising and no-one had sore feet so it was decided to walk back to Gulabin Lodge by descending the other side of the Corbett. We followed the contours of the hill down to the burn below and then it was simply a case of walking along the narrow valley which would eventually lead us to the Spittal.
We were watched by a herd of deer, standing motionless on a ridge
Mountain hares were still in abundance – and at one point, we were watched by a herd of deer, standing motionless on a ridge until we were out of sight.
The walk concluded with the Scots Mag's customary cup of tea/pint of beer/glass of fizz (although that was just me – at home as I soaked my feet!) and a collection for this walk's charity of choice – Macmillan. The magnificent total of £322 was raised, everyone agreed they'd had an excellent day – and plans are now well underway for our July 11 Take A Hike, which will be in the Pentlands.
See you there!