Tartan Noir: From Page To Stage
---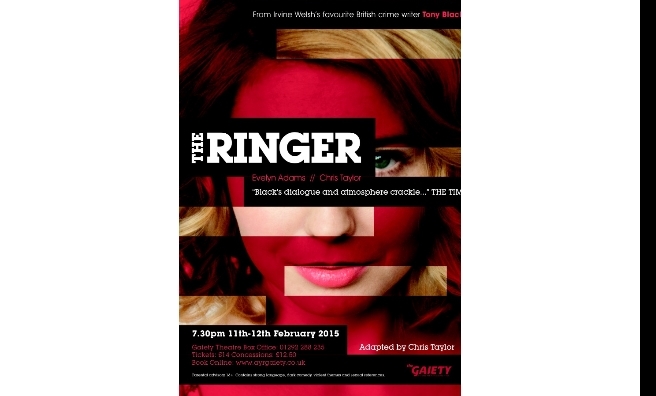 The Ringer
Tartan Noir, Scotland's unique genre of literature, is to get its world stage debut with an all Scottish cast of actors at Ayr's Gaiety Theatre next month.
The Ringer – a bitter-sweet revenge tragedy set on the west coast of Scotland – is the work of four-times Crime Writers Association nominated author Tony Black.
'Our femme fatale, who drives the blokes crazy'
"The Ringer is tailor-made for fans of the gritty crime fiction which has come to be known as Tartan Noir," says Tony, who normally sets his stories in Edinburgh.
"This sort of book is hugely popular and we're expecting the story to go down well in a theatre setting. And this is Burns Country after all – I'm sure Rabbie would have approved of our femme fatale, who drives the blokes crazy."
The Ringer stars the familiar faces of television and stage actors Evelyn Adams, who recently appeared in BBC TV's Doctors, double BAFTA-winning Bryan Larkin and Chris Taylor, whose television credits include Still Game.
'There's real humour amidst the grit'
"The writing's great, there's real humour amidst the grit and although you wouldn't want to be friends with any of the characters, they're impossible to ignore," says Chris Taylor, who is one of Ayrshire's best-loved actors.
The Ringer is at the Gaiety Theatre on February 11/12, 2015, starting at 7.30pm. For bookings, click here.
---
The Gaiety Theatre
The Gaiety was built in 1902 and is one of Scotland's most respected theatres.
At its height, the theatre's summer variety show, The Gaiety Whirl, had a 26-week run.
The Gaiety closed in 2009 despite local residents, and many Scottish performers, opposing the move.
In 2012, the Gaiety re-opened to a sell-out run of more than 40 performances of the panto Cinderella.