The Great Eight – Glamis Castle
---
Credit: Shutterstock/REX
Stunning Glamis Castle has fascinating tales to tell…
Glamis Castle, with its long tree-lined approach, is one of the most famous and easily-recognisable castles in Scotland. It is situated in 5665 hectares (14,000 acres) of Angus countryside, and there has been a castle on this site since 1372. It was also the childhood home of Queen Elizabeth, The Queen Mother – you enter the estate through the Queen Mother Memorial Gates. The late Queen Elizabeth II (Queen Elizabeth I in Scotland), had some of her fondest memories visiting Glamis Castle with her mother and sister, Princess Margaret.
It has been the ancient seat of the Earls of Strathmore and Kinghorne since the 17th century, and has history packed in every room.
It is full to the brim with valuable artefacts, paintings and memorabilia, which makes it a popular attraction with tourists from all over the world. Here, general manager Helen Buchanan picks her eight "must see" attractions and explains why they're so special.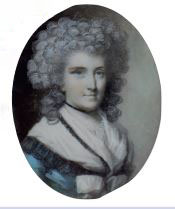 Miniature Of Mary Eleanor Bowes By George Engleheart, c. 1790
Helen says, "The wealthy heiress, Mary Eleanor Bowes, married John Lyon, ninth Earl of Strathmore and Kinghorne in 1767 and a stipulation of her marriage was that future husband(s) should take the name of Bowes. The Earl complied but after his death in 1776, Mary Eleanor became the focus of fortune hunters, the most devious of whom was Andrew Robinson Stoney, who duped her into marriage in 1777. She was granted a divorce in the ecclesiastical courts in 1786 and became the first divorced woman in Britain to have her properties restored to her. She features in this year's Women of Glamis exhibition."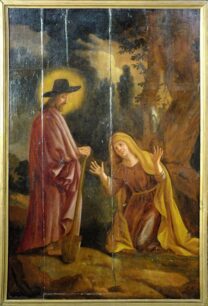 Christ Wearing A Hat, By Jacob de Wet, 1688
"The richly decorated panels on the walls and ceiling of the Glamis Chapel make it one of the most beautiful small private chapels in Europe," says Helen. "The paintings were added in 1688 when the third Earl commissioned the Dutch artist, Jacob de Wet, to paint scenes conforming to his family bible. One depicts Christ and Mary Magdalene, whereby Christ wears a hat and carries a spade to indicate he is mistaken for a gardener. This painting is one of only six in the world showing Christ with a hat. De Wet came to Scotland in 1673, where he decorated the state apartments at Holyrood for King Charles II."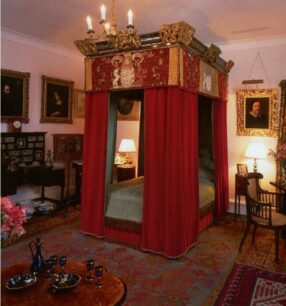 The Kinghorne Bed
Helen says, "King George VI's dressing room contains the 17th-century Kinghorne bed, a Charles II four-poster bed with carved giltwood sections of putti and leaves and with some contemporary embroidered hangings with the family coat of arms. The bed has had many famous occupants, including the Jacobite James Stuart, Bonnie Prince Charlie's father, known as the 'Old Pretender', who visited Glamis in early January, 1716. A maid found his watch after he had left and took it home, but it was returned by her family years later and is now on display in the Family Exhibition Room."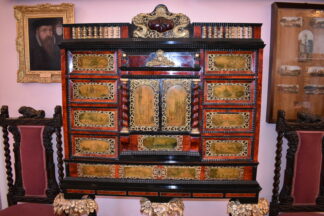 Flemish Jewellery Cabinet
"The Flemish ormolu-mounted, parcel-gilt, ebonised wood and red tortoiseshell cabinet displayed in the Drawing Room was a wedding present from Patrick, third Earl of Kinghorne – and later Strathmore – to his wife Helen Middleton in 1662," says Helen. "The front
was later painted with Victorian scenes of Glamis Castle and its surroundings. Patrick mentions it in his famous Book of Record, which records his business and personal recollections, and which was written between 1684 and 1689. He wrote that he brought home a very fine cabinet 'the better was not in the Kingdome in those days' and presented his new wife with its keys."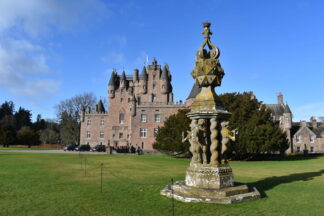 The Sundial
Helen says, "The Glamis sundial, commissioned by the third Earl, is a fine example of the obelisk sundial fashionable in Scotland in the late 17th century. It includes the Earl's coat of arms and cornet with 84 time-recording faces. Probably the largest sundial in Scotland, at six metres (19.6 feet), it is mounted on an octagonal plinth. The lion dial consists of four vertical dial faces for each cardinal point of the compass."
Portrait Of Patrick, Ninth Lord Glamis And His Secretary George Boswell
"This double-sided Scottish school oil on panel, dated 1583, depicts Patrick Lyon, ninth Lord Glamis, aged eight, who became the first Earl of Kinghorne in 1606," says Helen. "The verso shows George Boswell, his secretary, with a quill behind his ear holding an ink pot. This double-sided panel is an exceptional survival, the verso being apparently the earliest Scottish portrait of a non-royal servant."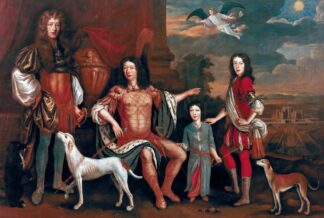 Painting Of Third Earl Of Strathmore And Kinghorne By Jacob de Wet, 1683
Helen says, "The famous Dutch artist, Jacob de Wet, painted the imposing picture of Patrick, the third Earl of Strathmore and Kinghorne, and his sons, which hangs in the Drawing Room. Wearing an impressive Romanesque flesh-coloured tunic with lion epaulettes, Patrick gestures toward Glamis Castle, which he restored and remodelled in the late 17th century. Patrick inherited an enormous debt from his father, but his astute business acumen and assiduous care during his custodianship of Glamis Castle enabled it to not only survive, but to thrive, and his legacy lives on today."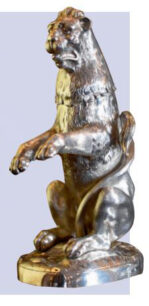 Lion Of Glamis Cup
Helen says, "One of the greatest treasures at Glamis is the original German lion silver-gilt cup by Elias Zorer, Augsburg, dated around the 1600s. The form alludes to the family name, and in the summer of 1793, Sir Walter Scott visited Glamis and had the honour of drinking the health of the absent Earl from the famous Lion of Glamis. It is reputedly the prototype of the 'Poculum Potatorium' of the Baron of Bradwardine in Scott's Waverley – the 'Blessed Bear' being a massive beaker of silver, double gilt, moulded into the shape of a lion. Glenallan House in Scott's The Antiquary is supposed to represent Glamis Castle."