The Nature Library 
---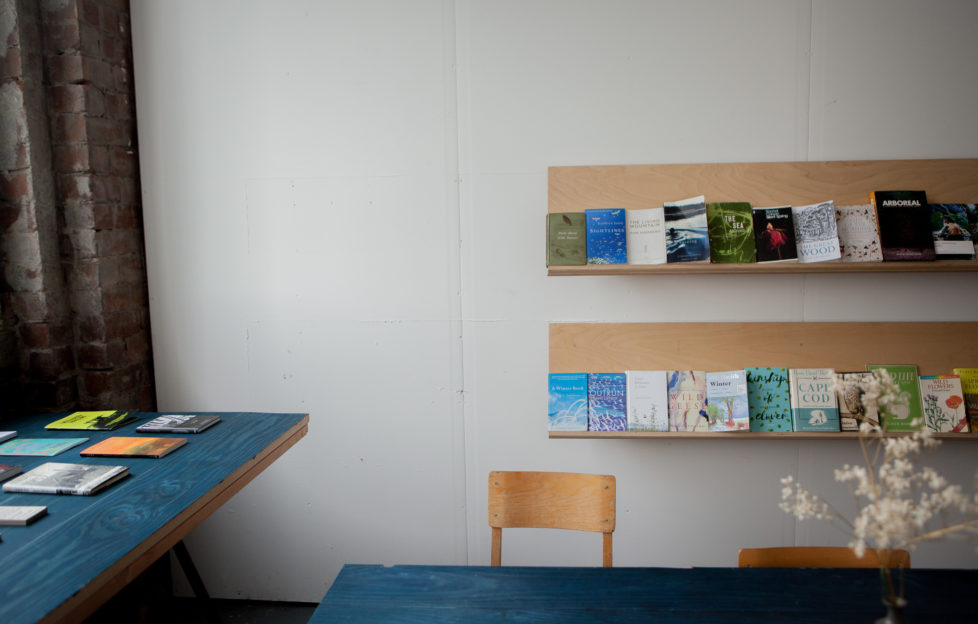 Explore the outdoors by browsing the pages of these botanical books and wildlife writings curated by founder and Glasgow-based artist, Christina Riley
The Nature Library, a pint-sized collection of books that aspires to take readers 'to the edge of the sea, into the mountain or to the top of the tallest tree', is on display in Glasgow this month.
From 16th to 30th November, the venue for this pop-up reading room is The Project Café on Renfrew Street, chosen by The Nature Library founder, Christina Riley, for its 'ethos and atmosphere'.
"It was one of the first places that came to mind when I started thinking about the library," explains Christina, a Glasgow-based artist who became interested in nature writing a few summers ago after spotting a copy of Henry David Thoreau's Cape Cod in a used book store.
Inspired by the John Muir Trust's recent Wild Words campaign, The Nature Library first opened at Civic House in October, and features classic and contemporary works, fiction and non-fiction, memoir, poetry and children's texts. Thanks to donations from visitors – who can browse the books rather than borrow them – the shelves now hold almost 70 publications.
New additions include Arboreal, an anthology of woodland writing and Lost Woods: The Discovered Writing of Rachel Carson. These sit alongside titles such as Nan Shepherd's The Living Mountain, Jim Crumley's The Great Wood and A Scots Dictionary of Nature by Amanda Thomson. 
"I'm so grateful, and just love the idea that by putting one of their own books on the shelves the visitors become a part of the library," says Christina.
Christina has particularly relished discovering more female writers in the genre.
"Reading women's words about nature put me in the picture rather than looking at it from the outside, and that makes a big difference. Platforms such as The Nan Shepherd Prize and Willowherb Review have been incredible for bringing more voices to my attention and onto the library shelves," she says.
She also feels that in a time when climate change is in the headlines almost daily, just taking the time to read some of these books 'is a form of activism.'
Christina says, "I definitely take more notice of the world around me – even just little things like being able to identify (some) birds and trees. I realised in February that I'd been walking past a giant sequoia tree in Glasgow Botanic Gardens for years and it felt like meeting a celebrity – a year ago I couldn't have told you what a sequoia was!"
On 28th November, the library is hosting an ecopoetics workshop with Maria Sledmere, author of Nature Sounds Without Nature Sounds.
Maria has a way of writing that is utterly entrancing and I'm so excited for her to be doing a workshop. Ecopoetry focuses on nature not as something which is "over there" but entangled in human life at every level, so the workshop will see creative exercises for people of all abilities to think through the ethical and aesthetic issues of writing about the natural world.
"I didn't know what to expect or if there'd even be any scope to continue the library beyond its two weeks at Civic House, but the feedback has been so encouraging and it's exciting to hear that there's a shared desire for something like this," says Christina.
More details about The Nature Library, including its opening party at The Project Café on 16th November and The Ecopoetic Imagination workshop on 28th November, are available on the website >>
Or follow The Nature Library on Twitter and Instagram @thenaturelib