The Scots Magazine December Issue – Out Now!
---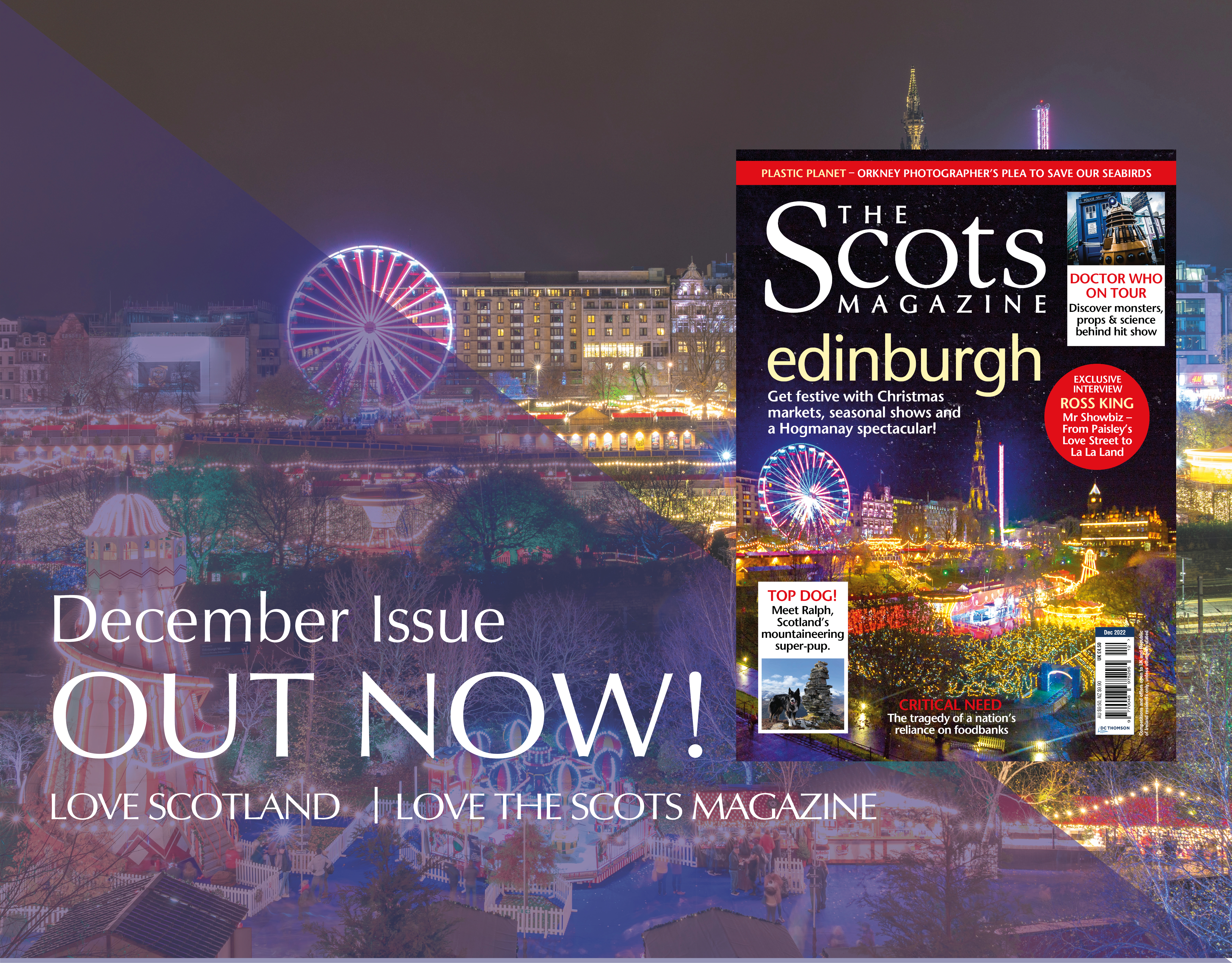 ---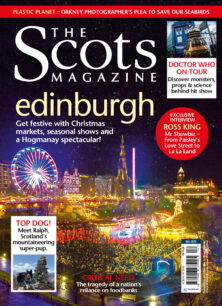 You can find your nearest stockist by entering 
your postcode here. 
Get it digitally to your smartphone or tablet, too
– just visit the app store, or get a digital subscription.
---
CONTENTS
Cover Story…
Enjoy Christmas in the capital, with an Edinburgh
 My Scotland Scots presenter, DJ and actor Grant Stott takes you on a tour of his favourite Scottish places
#OutAndAboutScotland The best pics shared with us this month on social media
A Wee Blether With… Volunteer RNLI crewmember Laura Wilson on coping with 24/7 lifeboat call outs
 Around Scotland Your top pick of events, concerts and activities across the country this month.
A Matter Of Time Discover Doctor Who costumes and monsters at an exciting new exhibition
Head to a theatre near you for Scottish Ballet's fresh take on Christmas classic, The Snow Queen
Listen To The Land Jim Crumley considers the primitive force of Scotland's wildlands in winter
An Uncertain Future A mission to save the famous Loch Lomond wallabies
The Great Eight Celebrate St Andrew's Day at these eight fascinating locations
Popular TV presenter Ross King on life from Glasgow to Hollywood
 A-Z Of Great Scots Pioneering Glen Clova postie Jean Cameron campaigned for the rights of working women
Festive Folklore Colourful Scottish Christmas and New Year traditions from years gone by
Get out onto the trails for a choice of three secluded Christmas adventures
Scottish Kitchen Whip up a Tipsy Laird Cake with a splash of Drambuie!
 Sound of Scotland Glasgow-born musician Craig Armstrong – the name behind famous film and theatre scores
Scottish Bookshelf Novelist Helen Fields explores the expectations placed on women through the ages
 Slàinte Mhath Step inside the restored Annandale Distillery in Dumfries & Galloway
Wild About Orkney Polly Pullar hears of the plight of Scottish seabirds from Orkney filmmaker
Top Of The Pups Why record-breaking Ralph the collie loves Scotland's hills
Read all about the voluntary foodbanks saving struggling Scots across the country
 Eat, Sleep, Drink… The Reviews Lalique Restaurant in Crieff and Dunard Hostel on Barra
On Home Ground Cameron McNeish tries out Glasgow's new walking route
Tranquil Trails Explore Perthshire's peaceful lochside path network
A Leap Of Faith The extraordinary Scot who brought the gospel to East Asia
Scotland's Islands Tiny Oronsay in the Inner Hebrides shelters rare wildlife
 Sweet Success How Tunnock's make Scotland's top teatime treat
---
Never Miss An Issue

Of The Scots Magazine.
Or find y

our nearest stockist

here

.