The Scots Magazine January Issue – Out Now!
---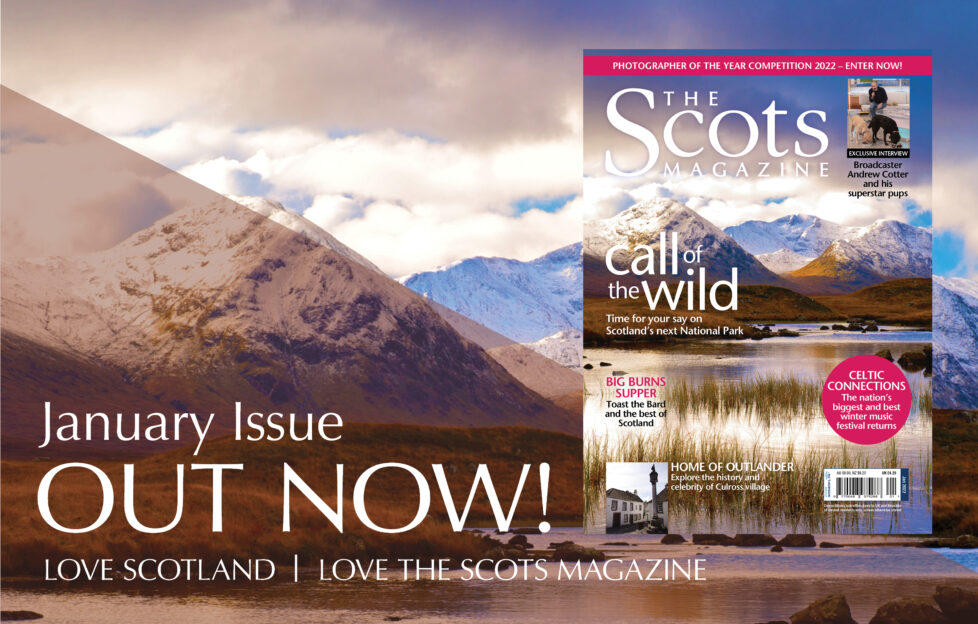 ---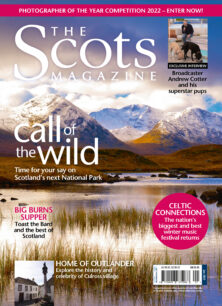 You can find your nearest stockist by entering 
your postcode here. 
Get it digitally to your smartphone or tablet, too
– just visit the app store, or get a digital subscription.
---
CONTENTS
My Scotland take a trip around the country with singer and presenter Michelle McManus
Wee Blether Scots actor Stuart Martin on his new film Army Of Thieves and being scared by Jurassic Park
What's On a top selection of shows, exhibitions and more for everyone to enjoy this month
 Focus On Falkirk marvel at astonishing feats of engineering, iconic cars and exterminating aliens, and take a train trip back in time
Save Our Steamship a charitable trust aims to raise funds to keep Loch Katrine's SS Sir Walter Scott afloat
Get snapping and enter our competition to become The Scots Magazine Photographer Of The Year 2022
 Footprints In The Snow Jim Crumley and a golden eagle track a mountain hare
A-Z Of Great Scots hotelier Sir Reo Stakis worked hard as an adopted Scot, but he never forgot his roots
Sound Of Scotland celebrate the return of the popular Celtic Connections music festival
Eat, Sleep, Drink… the Reviews Profiling Scotland's best hotels and restaurants
No Man's Land Cal Flyn's latest book explores life in post-human landscapes

Make it our exclusive interview with sports commentator Andrew Cotter
Scottish Bookshelf discover 21 of the best new books in fact and fiction this month
The Great Eight Culross, one of Scotland's most picturesque towns
Scottish Kitchen Gleneagles pastry chef Phill Skinazi makes his favourite sweet treat, toffee pops
No Life Too Small Polly Pullar visits the animal hospice inspired by a dog that saved the owner's life
Hard Lessons Learned Cameron McNeish on a British mountaineering tragedy
Celebrate the National Bard with the Big Burns Supper
Stay On Your Toes Fiona Russell's winter adventure in the Cairngorms takes a surprising turn
Roaming Free a 10-mile hike on the historic and dramatic Jock's Road
Abolitionist's Bard Kenny MacAskill on how Robert Burns inspired anti-slavery activists
Scotland's Islands step back in time on a visit to Rousay, known as the Egypt of the North
---
Never Miss An Issue

Of The Scots Magazine.
Save an incredible 50% on the shop price when you subscribe!
Or find y

our nearest stockist

here

.