The Scots Magazine January Issue – Out Now!
---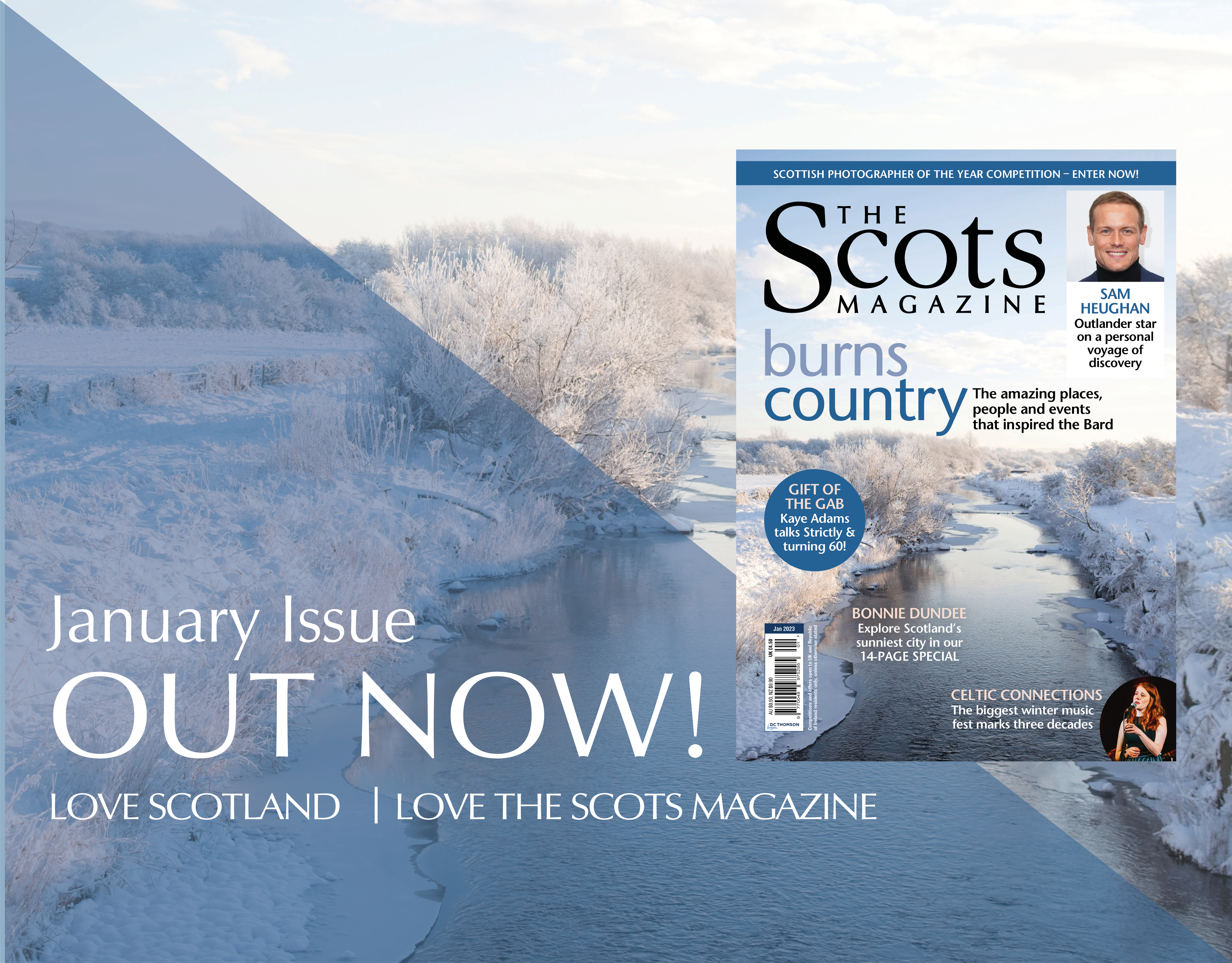 ---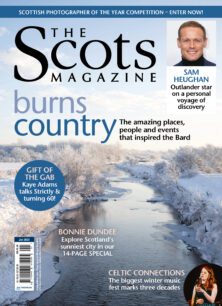 You can find your nearest stockist by entering 
your postcode here. 
Get it digitally to your smartphone or tablet, too
– just visit the app store, or get a digital subscription.
---
CONTENTS
Cover Story…
Follow in the footsteps of Scotland's beloved Bard, Robert Burns
 My Scotland Sports broadcaster and author Andrew Cotter tells us about his favourite Scottish places
#OutAndAboutScotland The best pics shared with us this month on social media
A Wee Blether With… James Macsween on making Scotland's national dish – the humble haggis
 Around Scotland Your top pick of events, concerts and activities across the country this month.
Making A Connection Three decades of Scotland's biggest folk music festival
Enjoy festive family fun at a traditional Scottish panto 
The Big Interview TV's Kaye Adams celebrates a milestone with a podcast
Focus On Dundee Enjoy an urban adventure with our 14-page special
At Journey's End Jim Crumley considers the impact of climate change on a flock of lapwings
Sam Heughan on his impromptu decision to walk the West Highland Way
 A-Z Of Great Scots How a cowboy working in Argentina became a Scottish political powerhouse
Sound Of Scotland Classical-fusion cellist launches lockdown collaboration album
The Beatles' ill-fated tour of
Scotland, and how it set the
band up for global success
Scottish Bookshelf Author Michelle Sloan's latest novel was inspired by an iconic Scottish painting
Slàinte Mhaith Celebrate the bells with a glass of Champagne
Scottish Kitchen End Burns Night in style with a haggis-spiced pudding!
Eat, Sleep, Drink… The Reviews Loch Tay Luxury Highland Lodges, Killin, and The Wine Press Bar, Dundee
Scotland's Islands Walk from the mainland to these tidal Solway Firth isles
Enter your best snap in The Scots Magazine's annual Photographer of the Year competition
 Eat, Sleep, Drink… The Reviews Lalique Restaurant in Crieff and Dunard Hostel on Barra
Flocking Together Polly Pullar on her love for the primitive Soay breed of sheep, native to St Kilda
Into The Water Calum MacLean found freedom, joy and relaxation from outdoor swimming
 Headstart On Pedals Tackling a remote Corbett on two wheels and two feet
Winter Playground Ski touring in Scotland on perfect powdery snow
 20-Day President The Scot who rose through the ranks in his adopted homeland of Uruguay
---
Never Miss An Issue

Of The Scots Magazine.
Or find y

our nearest stockist

here

.