The Scots Magazine March Issue – Out Now!
---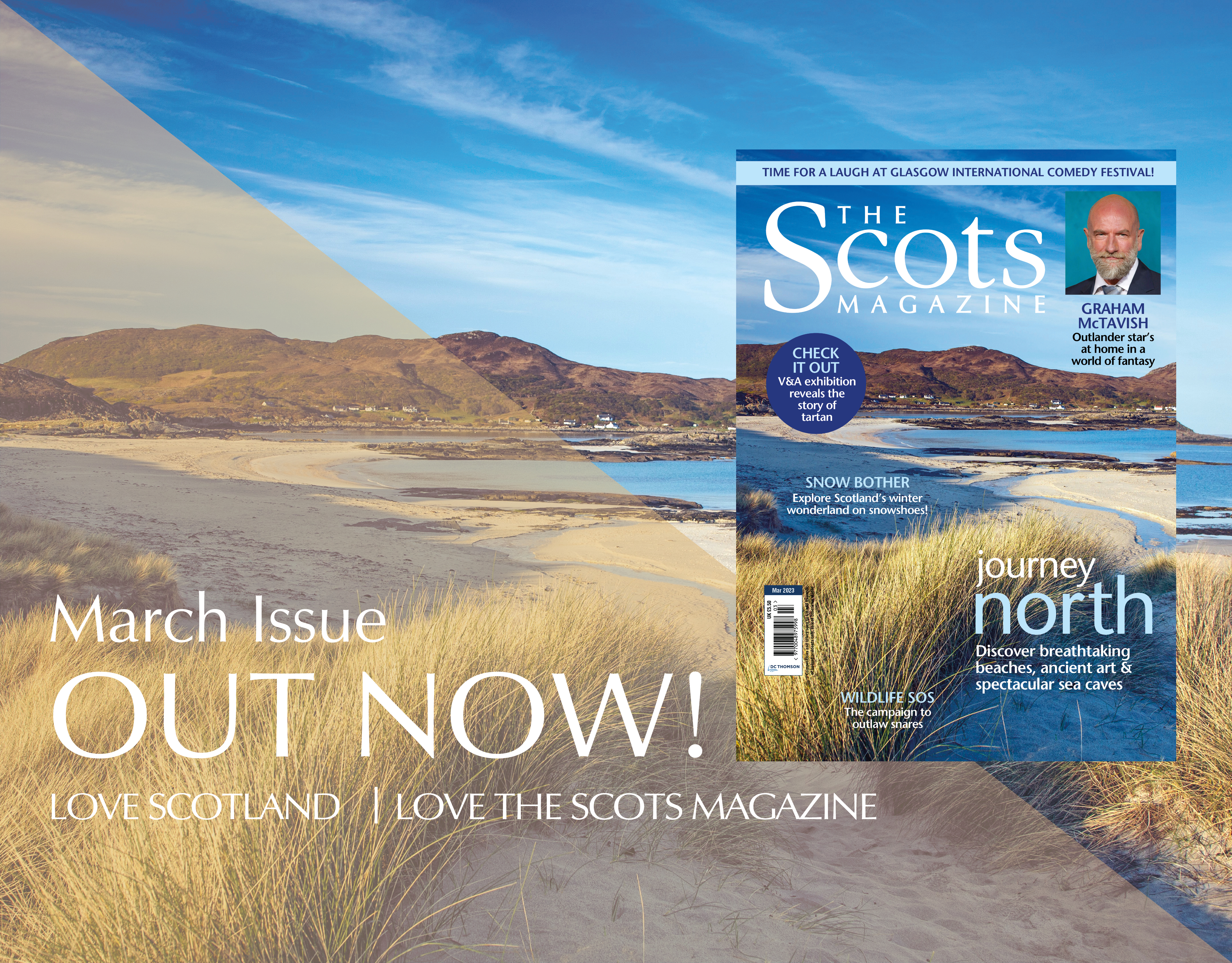 ---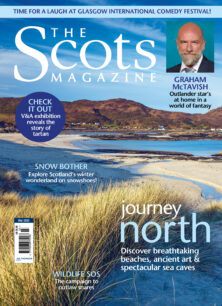 You can find your nearest stockist by entering 
your postcode here. 
Get it digitally to your smartphone or tablet, too
– just visit the app store, or get a digital subscription.
---
CONTENTS
Cover Story…
Discover the delights of Northern Scotland in our 14-page special
 My Scotland Carol Kirkwood takes you on a tour of her favourite Scottish places
#OutAndAboutScotland The best pics shared with us this month on social media
A Wee Blether With… Scottish director Ruth Paxton on the making of her eerie feature-length film debut
 Around Scotland Your top pick of events, concerts and activities across the country this month.
Jim Crumley on convening with nature in a welcoming, vibrant Scots pine forest
How the Covid-19 pandemic echoed the harrowing last cholera outbreak in Scotland
Check out V&A Dundee's new exhibition on tartan
Sound Of Scotland Chance meeting that brought an unlikely duo together
 Scottish Bookshelf Gothic classics inspired Scots author Mathew West to craft his creepy masterpieces
From The Vault The brutally cold storms that devastated Scotland
The Great Eight Celebrating BBC Scotland's centenary with these eight fascinating facts
Slàinte Mhath The lethal consequences of criminals trying to capitalise on prestigious whisky brands
Step into fantasy land
with Outlander star
Graham McTavish
Scottish Kitchen A stunning seafood dish from Scottish chef Tom Kitchin
Eat, Sleep, Drink… The Reviews Malmaison, Dundee, and Fletcher's in Stirling
A-Z Of Great Scots Scots chef Andrew Fairlie conquered French kitchens and brought his skills back home
No Excuse For Cruelty Polly Pullar calls for a total ban on snares in Scotland
Snow Place Like Home The hand-crafted wooden skis being created in Perthshire
Get ready to laugh out loud at Glasgow International Comedy Festival
Larger Than Life Tom Patey's exceptional career on and off the hills
Springing Into Action Tackling a challenging 60km circuit using snowshoes
Cold Comfort Cooling off on a warm day with a swim in a Scottish river
The Long March The Scots sailor who trekked across Russia and back again
A Force Of Nature The changing world of Scots artist James McIntosh Patrick
 Fancy A Pint? Tennent's Lager dominates the beer scene in Scotland
---
Never Miss An Issue

Of The Scots Magazine.
Or find y

our nearest stockist

here

.