The Scots Magazine November Issue – Out Now!
---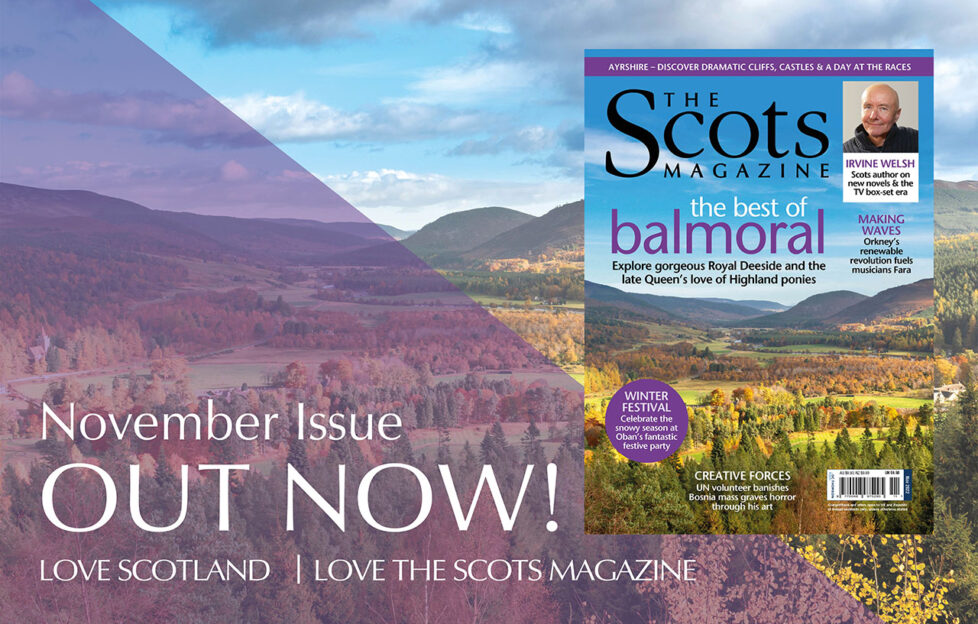 ---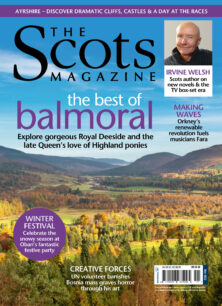 You can find your nearest stockist by entering 
your postcode here. 
Get it digitally to your smartphone or tablet, too
– just visit the app store, or get a digital subscription.
---
CONTENTS
Cover Story…
Balmoral and beyond, beloved Scottish home of Queen Elizabeth II
 My Scotland weather presenter and TV personality Seán Batty shares his favourite Scottish places
#OutAndAboutScotland Your top pics shared with us on social media
A Wee Blether With… Stand-up comedian Darren Connell on how TV series Scot Squad changed his life
 Around Scotland The best events, concerts and activities across the country
From The Vault Latest tale tells of an escaped polar bear in Dundee!
Explore the best of Ayrshire, where adventure awaits, with our 14-page special
 Operatic Odyssey Scottish Opera celebrates 60 years with 60 shows!
 Banishing The Terror How art helps heal horrific Bosnian War trauma
A Scottish Enterprise Uncovering the secrets of the ill-fated Darien scheme to Panama in the 17th century
 A-Z Of Great Scots Private Bill Millin marched his bagpipes through France during the Second World War
Jim Crumley's reflections on the swans of Edinburgh
Scotland's Islands Take in the ancient history and wildlife of Great Bernera
Read our exclusive

interview with gritty Scottish novelist Irvine Welsh
 Scotland The Brand The global success story of vegan "cheese" from the beautiful Isle of Bute
 Sound of Scotland Trad band Fara's new album is inspired by Orkney's renewables revolution
Scottish Bookshelf Interview with award-winning Edinburgh poet Michael Pederson, and the best new releases
 Slàinte Mhath A new award-winning brand from Indie Scotch whisky firm
Scottish Kitchen Try your hand at this recipe for the late Queen's favourite, Dundee cake
Kenny MacAskill The story of Mary Macarthur, a pioneering union leader
Soak up the spirit of the festive season at Oban Winter Festival
 Eat, Sleep, Drink… The Reviews Carnoustie Golf Hotel and Spa and The Old Inn, Pitlochry
Living On The Edge Naturist Polly Pullar on the plight of Scotland's wild flora
 A Royal Pedigree Discover the late Queen's love of Highland cattle and ponies
 A Natural High Cameron McNeish considers our changing attitude to the Scottish mountain landscape
Into The Wilderness Fiona Russell hikes coast-to-coast in the remote north
 Wild And Free Camping under the stars on a family bivvy adventure
---
Never Miss An Issue

Of The Scots Magazine.
Or find y

our nearest stockist

here

.