The Scots Magazine October Issue – Out Now!
---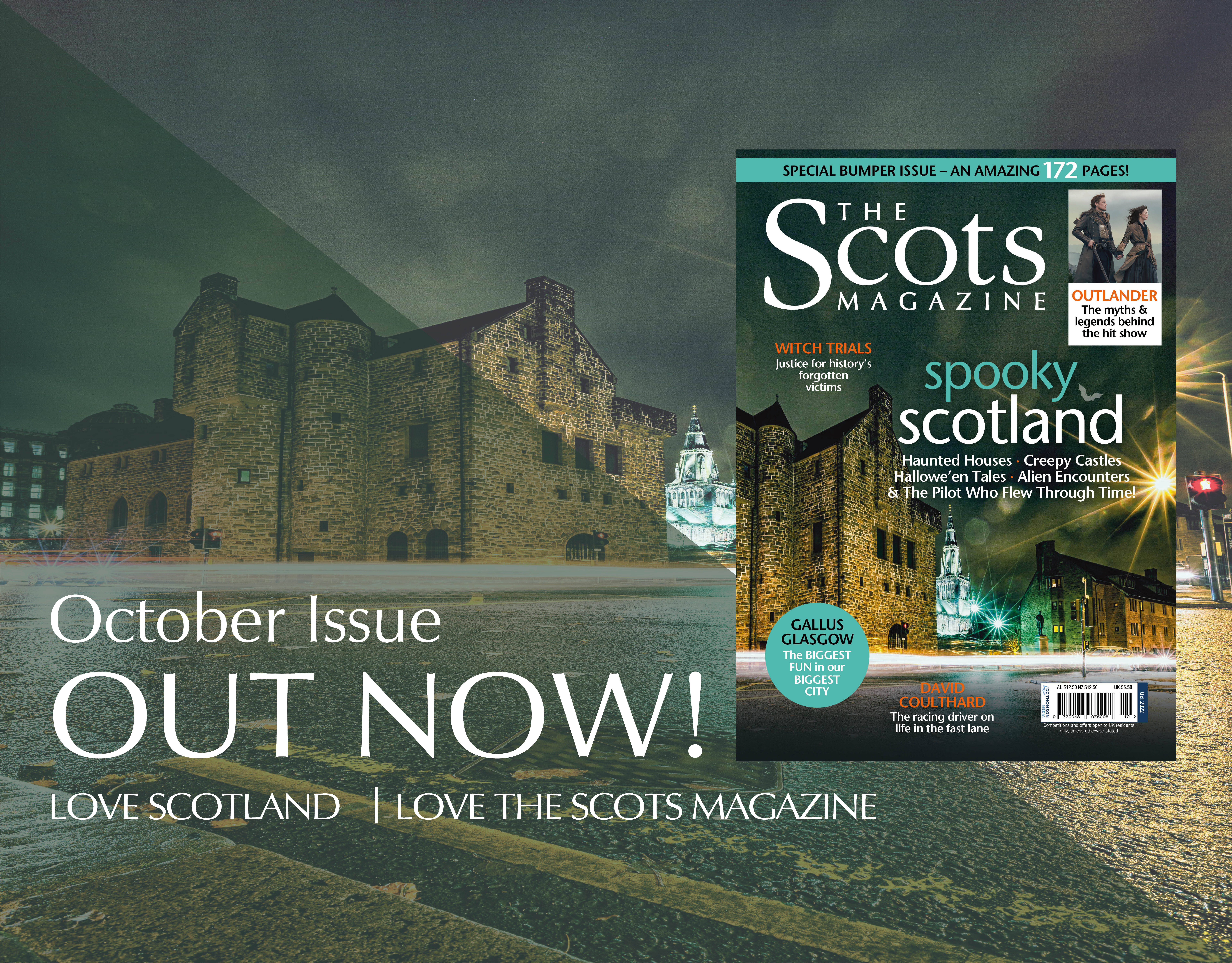 ---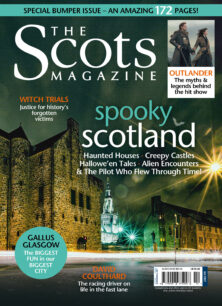 You can find your nearest stockist by entering 
your postcode here. 
Get it digitally to your smartphone or tablet, too
– just visit the app store, or get a digital subscription.
---
CONTENTS
 My Scotland Acclaimed wildlife film-maker Gordon Buchanan shares his favourite Scottish places
#OutAndAboutScotland Our readers take to social media to share their best Scottish snapshots
Around Scotland A round-up of the country's top events this month
Home And Away Celebrate our traditional tales with the Scottish International Storytelling Festival
Scotland The Brand World-famous gaming company Rockstar has its roots in Dundee
Look back at the cruelty of the Scottish Witch Trials and how to achieve justice
Master Of Disguise Jim Crumley on the intriguing migration patterns of owls
Wee Blether This month we speak with Ayrshire rapper Bemz
 Sound Of Scotland Eigg-based Johnny Lynch on belonging to the island
Flipping The Narrative Scots author Elle Connel takes inspiration from Stephen King
Q-Aye A selection of fascinating and fun facts from Scottish history and culture
---
Spooky Scotland
Bewitching Tales The origins of Scotland's Hallowe'en traditions
Stoker's Dark Days Learn how a small fishing village in Aberdeenshire is connected to Bram Stoker's notorious novel Dracula
Haunted House The spine-chilling history of Boleskine House, on the banks of Loch Ness
Back To The Future An unsuspecting RAF pilot takes an astonishing flight through time
Out Of This World Falkirk village Bonnybridge is Scotland's UFO capital
Phantoms Of The Opera Why is it that theatres are hotspots for sinister and eerie apparitions?
Pandemics, Aliens And Bloodshed A selection of terrifying horror films both filmed and set in Scotland
As White As A Ghost Ghoulish and ghastly tales from DC Thomson's 19th-century archives
Frightful Folklore The strange stories and spooky folklore explored in hit TV show Outlander
---
Discover some of the legendary attractions in Scotland's largest city, Glasgow
 Scottish Bookshelf A round-up of new releases in Scottish fact and fiction
 Myth And Legend The new Uilebheist Distillery has been built in a place infamous for its monsters
 Scottish Kitchen This month's star chef is David Sunderland, head chef at The Spiritualist Glasgow
Natural Paradise Polly Pullar tours Mar Lodge, a Scottish ecological utopia
Leave Only Footprints The team fighting against litter on Scotland's Munros
The Final Journey Cameron McNeish follows the history of Scotland's ancient coffin roads
L
earn about David Coulthard's road to success, on and off the Formula 1 racing circuit
 Coastal Kayak, Cycle And Run Fiona Russell explores the Angus coastline by kayak, bike and on foot
 Let's Saddle Up! Horse riding is a different way to explore Scotland
Alternative Scotland Enjoy a family-friendly walk at Duncryne Hill, near Loch Lomond
Gear Guide The latest available outdoor kit is rated and reviewed
for you
Raise A Glass Kenny MacAskill traces the surprising Scottish roots of a best-selling Irish whiskey
Scotland's Islands Community-owned Isle Martin is a place of tranquil beauty
---
Never Miss An Issue

Of The Scots Magazine.
Or find y

our nearest stockist

here

.