The Scots Magazine September Issue – Out Now!
---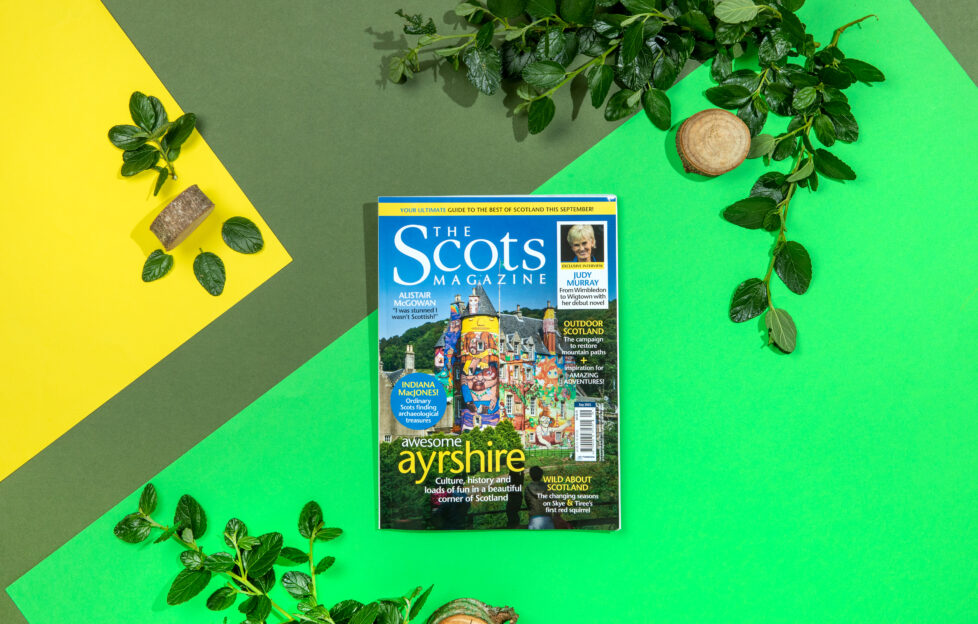 ---
You can find your nearest stockist by entering 
your postcode here. 
Get it digitally to your smartphone or tablet, too
– just visit the app store, or get a digital subscription.
---
CONTENTS
Cover Story…
Explore amazing Ayrshire in our 14-page special!
 My Scotland Merryn Glover of Cairngorms National Park showcases her favourite places

#OutAndAboutScotland The best pics shared with us this month on social media
A Wee Blether With… C.S. Robertson, bestselling crime novelist and Bloody Scotland board member
Around Scotland Your top pick of events, concerts and activities across the country this month
Wigtown Book Fest Get ready for the annual event for bookworms in Scotland's National Book Town
Head to The Dog Lover Show in Glasgow
Hiding In Plain Sight Eagle-eyed walkers are uncovering the mysteries of Scotland's ancient landscape
The Great Eight The Auld Enemy football ties that live on, including the most famous victory
Jim Crumley experiences a moment of magic on Skye's rugged shoreline
Scottish Bookshelf Thriller writer Emma Christie hits the road on a European adventure
Sound Of Scotland Celtic music star Brìghde Chaimbeul on the magic of experimental melody
From The Vault This month we discover more about "taps aff" and historical heatwaves in Scotland
Read our chat with Alistair McGowan as he talks about his surprisingly non-Scottish roots
A-Z Of Great Scots For the letter "L" we celebrate singer Sir Harry Lauder
Scottish Kitchen Take a trip to chocolate heaven with these tempting recipes
Slàinte Mhaith Discover how local flora gives whisky a unique honey flavour
Eat, Sleep, Drink French influence at Greywalls in Muirfield and lunch at the George Hotel, Inveraray
A Sense Of Closure Writer Polly Pullar with a squirrel kit in tow
Support It's Up To Us, a campaign highlighting the need for long-term public funding for our hills
Great Strides Find out how whisky brand Johnny Walker is putting the right foot forward
The Wild Freedom One man's quest to find the true meaning of Scotland's beautiful beaches
High And Mighty Our Big Adventure takes on a route around the challenging and steep Ring of Steall
A Profound Quiet Finding tranquillity during a gorge kayak adventure
Radical Spirit Discover more about James Tytler's tainted yet trailblazing life
---
 
Never Miss An Issue

Of The Scots Magazine.
Or find y

our nearest stockist

here

.