The Wanderlust Diet
---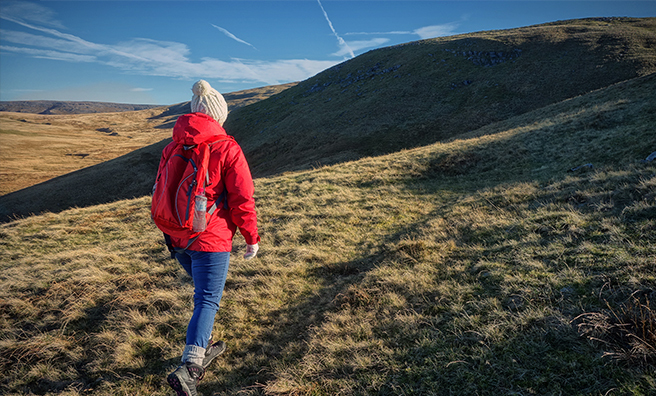 Having a positive 2017 shouldn't mean cutting out the things you enjoy, says Kay from the Scotlanders…
Nothing makes me want to binge on a bag of Scottish tablet quite like a mention of the word diet.
It's like a reflex action, an unstoppable act of rebellion. I wince at the quick fixes and latest fad diets which litter my social media, but, in all honesty, if you asked me what I got for Christmas this year my answer would be: an extra layer of cushion around my waist, and half a wardrobe of clothes that don't fit.
I do have a plan though, and it doesn't involve a diet.
New year, new me? No thank you. I'm aiming for 'new year, happy me', and I am at my absolute mountain peak of happiness when exploring this wee heart-breaker of a country – by land, sea, train, plane or bicycle.
Aside from the guaranteed endorphin release and stimulation of senses, a great benefit of getting off the sofa and into the great outdoors is that it generally helps me deposit a few extra pounds along the way.
I do intend to leave behind the consecutive nights of junk food appreciation and sweet treat consumption, but my passion for food will not be compromised. After all, it's my insatiable appetite which has lead me to discover so many culinary delights. Imagine I'd never experienced Cafe Kisimul on the Isle of Barra, the Letterbox in Newtonmore, or Hanoi Bike Shop in Glasgow – what a dreadful thought!
We shouldn't deprive ourselves of Scotland's foodie pleasures, but all good things should be in balance.
Walking Wish Lists
This time last year I had accepted the challenge to climb Ben Nevis for charity, which was an ideal motivation to get out of my pyjamas and into my walking boots. While no such challenge awaits this year, I will continue with my scenic strolls and hill walks purely for fitness and enjoyment.
My last two Sundays have been spent leaving footprints along the coast – over 10 miles on the Fife Coastal Path from Kirkcaldy to Aberdour, and an on even longer stretch from South Queensferry back into Edinburgh.
My next Sunday strut will to be admire my pretty city from Blackford Hill. Who would miss lazing around with gingerbread lattes when you have fresh air and scenic views?
I want to traverse woodland paths and cobbled streets, riverside trails and hilly ascents. I need postcard-perfect villages, lush greenery, and the smell of seaweed on the sand.
My walking wish list so far includes sections of the John Muir Way, Aberfoyle to Callander on the Rob Roy Way, and the Fife Coastal Path from Crail to Elie. I'll be popping into Perthshire throughout the year, and a couple of new Hebridean Islands are also on the cards.
Until then, I will be taking advantage of the 50% off pizza and pasta deal at the Vittoria Group in Edinburgh. I will also be indulging in fish 'n' chips then dancing it off on my visit to Shetland for Up Helly Aa.
Discovering Argyll's Secret Coast in February will absolutely involve discovering some Loch Fyne seafood, and a decent breakfast near our cottage. As for the adventures which follow, I predict there will be pies.
Remember, I'm not on a diet, but I'm also not unrealistic. I know that adventures aren't the sole remedy for my fitness woes, nor will they sculpt my body to toned perfection – particularly when food is as much of the adventure as walking!
What I do know is that all positive change comes with a positive mind. When I explore, I feel energised, content and peaceful. Perfect conditions for a happy and healthy new year I would say.