Scots Stars Open Canned Laughter
---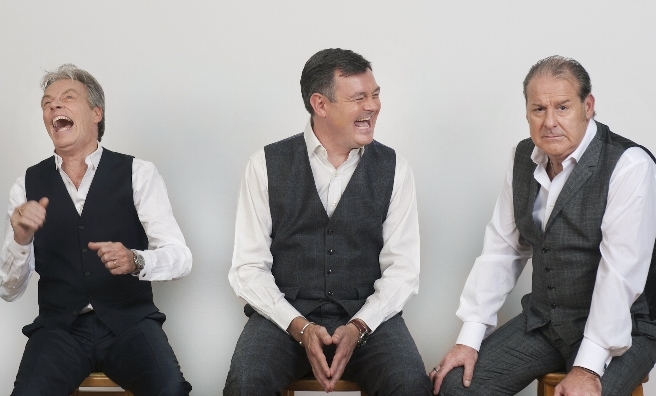 The stellar cast of Canned Laughter. Photo by Douglas Robertson
Canned Laughter brings together the talents of master impressionist and Edinburgh's annual panto dame Allan Stewart with comedy virtuoso Andy Gray and local hero Grant Stott.
Written by Ed Curtis and Allan Stewart, and directed by Ed Curtis, Canned Laughter is a seriously funny new play set in the 1970s, when funny men Alec, Angus and Rory are one of Scotland's top comedy acts. Are they about to hit the big time? This comedy trio are riding high and nothing's going to stop them. Or is it?
Fast forward to today and the three find themselves together again for the first time in decades.
What happened? Will they be able to put their past differences behind them? And why do they still care who gets the biggest laugh?
"The joy of working with Andy and Grant is that the fun we have backstage translates on to the stage and the audience can see that we love our work, said Allan Stewart of panto, Al Jolson Story and TV fame.
'We'll share that fun with our audiences!'
Allan, Andy and Grant have performed together many times.
"The chance to work with Allan, Grant and Ed on a new play is the best way to start 2016," exclaimed Andy Gray, whose big break came in 1986 when he co-starred in the BBC Radio Scotland sketch show Naked Radio, and its television counterpart Naked Video, before becoming well known as Chancer in the 1980s sitcom City Lights.
"What fun we'll have and we'll share that fun with our audiences!"
Radio and TV presenter, columnist, event host, regular evil panto villain and actor Grant Stott said: "To take the relationship formed over years of doing panto together into a play across Scotland seems like a dream to me. I can't wait to get started on it."
---
Listings