Two 50-year-old Single Malts Are Reunited
---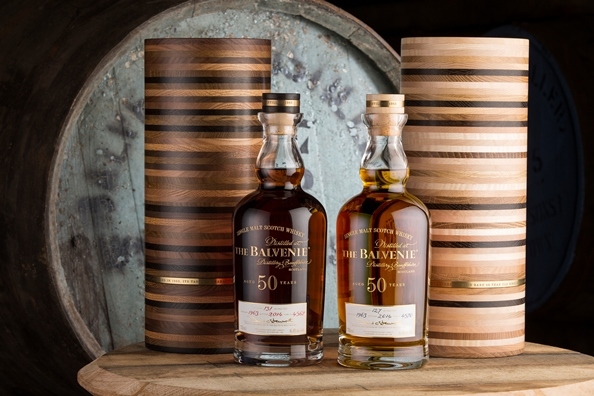 The Balvenie Fifty - two very special single malt whiskies
The most handcrafted of single malts, The Balvenie, has launched two very special whiskies. Both filled from the same distillation into the same type of cask on 28th May, 1963 and matured for fifty years at The Balvanie Distillery in Banffshire, the two new releases of The Balvenie Fifty – Cask 4567 and Cask 4570 – are markedly different in character, despite their identical origins.
"Both are among the most complex, elegant and fine whiskies ever to be released from Warehouse 24, the home of our oldest and rarest whiskies," said Balvenie's Malt Master, David Stewart.
David explained that, on the rare occasions Scotch whisky is left in cask to mature for 50 years, there's no guarantee it will turn out to be a great single malt. "It's rare that one 50-year-old whisky has aged beautifully over time but for two to mature into such exceptional expressions is very special," said David, who is the longest-serving Malt Master in the Scotch whisky industry.
"Cask number 4567 has a deep reddish hue and a beautifully full taste characterised by dark fruits and spice. The Fifty Year Old from Cask number 4570 has a rich golden hue and a remarkable, elegant oak and vanilla sweetness."
The two whiskies have an RRP of £26,500, with each malt presented in a handblown glass bottle in a very special wooden case, handmade by Scottish craftsman Sam Chinnery.
Scots Magazine Editor and whisky lover Robert Wight was lucky enough to try the rare whiskies at a special launch event held at Andy Murray's Cromlix House Hotel, near Dunblane.
"Fifty-year-old expressions are incredibly rare so it was a privilege to sample such special malts," said Robert.
"At such a great age, whisky should be considered a 'consumable antique'. You're not simply drinking a malt. You're tasting a piece of distilled history.
"The dram from Cask 4567 was dark and sweet. Perhaps unsurprisingly after so long in the cask, it had a strong, oaky, resin-like aroma – like the inside of an old piano, as one of my fellow imbibers said. Its sister, from Cask 4570, was much lighter and drier, with a citrus punch that took my breath away.
"It's remarkable that two malts, distilled on the same day back in 1964, laid down together in hogsheads at the same time and after spending half a century growing old right next to one another have such different characters.
"Tasting these very special malts was an unforgettable experience. Sadly, at £26,500 a bottle, I've no doubt it was also a once-in-a-life experience!"